Scenic USA - Florida

Indian River Lagoon Scenic Highway
---
---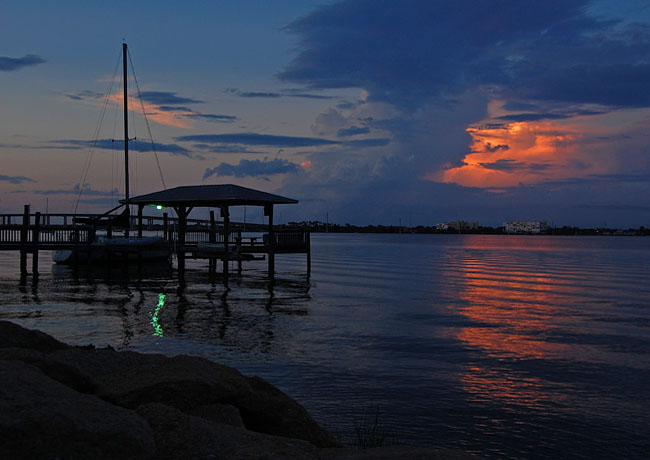 The distance from the Florida Panhandle at the Alabama border to the tip of the peninsula at Key West,

a span measuring more than 850 miles, is a lot more than common guesses. This is good news for Florida sightseers, as 21 corridors have been designated as Florida scenic highways, from the panhandle's Pensacola Scenic Bluffs Highway to the Florida Keys Scenic Highway.
   Somewhere in between, on Florida's eastern coast, the 166 mile Indian River Lagoon Scenic Highway offers another example of Florida's coastal beauty and numerous historic landmarks. Throughout the byway, dozens of recreation areas and parks, three national wildlife refuges, and some of Central Florida's oldest communities guarantee to keep byway travelers entertained. An area once known for its Indian River citrus fruit, countless rocket launches over the last five decades helped to promote the region as Florida's Space Coast. Today the manned space program has slowed at Kennedy Space Center on Merritt Island, but rockets still rumble from Cape Canaveral launch pads, sending various payloads into space. On the mainland along River Road in Rockledge, byway travelers will discover close-up views of the broad Indian River and one of the oldest residential districts on Florida's east-central coast.
   The byway route begins in Titusville and leads southward to Wabasso following U.S. Route 1 and the western edge of the Indian River.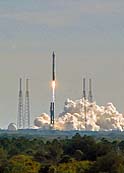 The return trip follows Route A1A along the coastal barrier islands, including many viewpoints along the Atlantic beaches.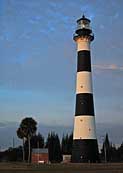 In the northern section of Brevard County, County Road 402 leads out to the Atlantic Coast and the Canaveral National Seashore. This undeveloped shoreline, a buffer zone between rocket launches and population centers, provides miles of pristine beaches, salt marshes and habitats for the largest number of species of plants and animals of any estuary in North America. Just south of Titusville, S.R. 405 heads to the Kennedy Space Center Visitor Complex, where visitors are introduced to more than 50 years of space history. Unable to proceed through a restricted zone for Kennedy Space Center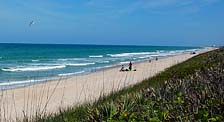 and Cape Canaveral Air Force Station, byway travelers may travel along the southwest edge of the Space Center and head southward on S.R. 3. A few miles to the south, S.R. 528 leads a bustling Port Canaveral and southward access to A1A. This beachside highway follows the Atlantic Coast and passes a long string of county seaside parks. These access points, a great place to enjoy the surf, sun and sand, offer convenient off-road parking and boardwalks over the fragile dune environment.
   Out on this long barrier island, Melbourne Beach was first linked to the "outside world" with a Melbourne and Atlantic Railroad spur,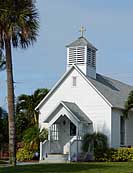 built by Captain Alfred Wilcox in 1889. Historic sites on Ocean Avenue include the Community Chapel, the oldest church on the beach, a replica of the first post office and the two-story Ryckman House,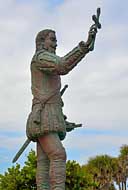 built in 1890 for Jacob Fox. A few blocks to the south is the Old Town Hall, now a beachside museum. About six miles south on A1A, the 25 acre Juan Ponce de Leon Landing beach park commemorates the 8000 mile voyage of the early 16th century Spanish explorer. A controversial research effort by a retired US Air Force, Colonel Douglas T. Peck, suggests Ponce de Leon landed near Melbourne Beach, 125 miles south of the previously accepted site of St. Augustine. The first European to reach Florida, Ponce de Leon is honored with a 10 foot tall bronze statue at the park.
   As the byway approaches the St Lucie County line, Sebastian Inlet State Park, the McLarty Treasure Museum and two national wildlife refuges, Archie Carr WNR and Pelican Island NWR, finish up the beachside attractions.

    Byway Map
---
---
Copyright © 2008-15 Benjamin Prepelka
All Rights Reserved