Scenic USA - Florida

Mosquito Lagoon
---
---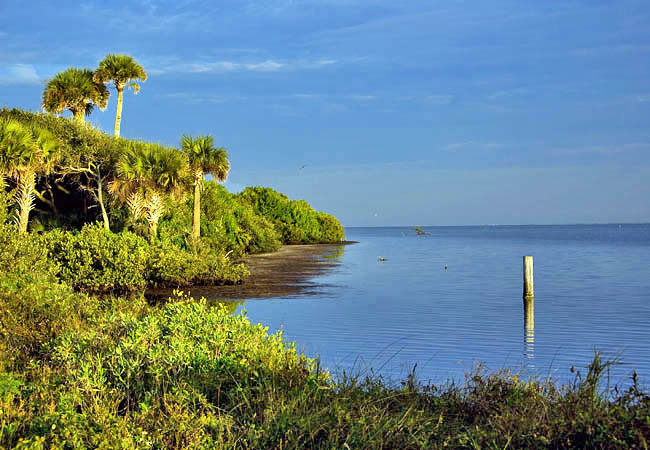 Photos by Ben Prepelka and Nathaniel Patrick

A long barrier island on Florida's eastern coast bears one of the earliest recorded names in North America, an area first called Canaveral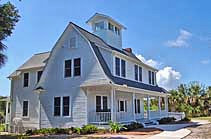 by Spanish explorers. Remnants, left behind by some of Canaveral's early inhabitants, are seen at Seminole Rest, Turtle Mound and Castle Windy. Here, sand-covered mounds left behind by the Ais and Timucuan Indians contain the discarded shells of harvested oysters and clams. Some of these mounds of trash, preserved at the Canaveral National Seashore, are 18 feet high. Mosquito Lagoon, still rich in clams, oysters, blue crabs and shrimp, extends the length of the western edge of this narrow strip of land.
Eldora, one of the small settlements along this waterway, was one of the typical late 19th century communities. Between 1877 and 1900 as many as 100 people, mostly landowners, grove workers and their families called Eldora home. The Eldora Statehouse (inset) is the best remaining example of late 19th century architecture near the Mosquito Lagoon. The community of Eldora typified development in Florida in the late 1800s, solely reliant on river transportation. After Flagler's railway moved southward on the mainland, the need for the area's steamship service dwindled. Because of the lagoon's bounty, the community at Pumpkin Point (Eldora) managed to linger for a few more years after their connection to the outside world ceased, but eventually turned into a ghost town.
Today the lagoon is still noted as one of the richest estuaries in the country. In the sport fishing industry, Mosquito Lagoon is often called the Redfish Capital of the World.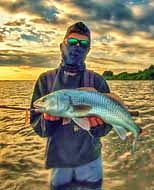 Here, catches of redfish (red drum) and spotted seatrout fill the record books. Totaling over 21,000 acres, the shallow lagoon's pristine waters have finally succumbed to area development. Fishing pressure, toxic sediments, sewage and fertilizer runoff have killed off large sections of seagrass beds and triggered unusual mortality events. A nursery for small fish, shrimp, crabs and other small crustaceans, healthy seagrass has always been the key to the lagoon's success. Today, special regulations apply to anglers that fish Mosquito Lagoon. All anglers must possess a current signed Refuge Sports Fishing Permit at all times while fishing in the refuge sections of Mosquito Lagoon. A Congressional plan (H.R. 5266) reauthorizes funding for the National Estuary Program, hoping to address many issues of water quality and ecological health in the lagoon.

Area Map
National Seashore Map
Lagoon Rules, Map and Permits
---
| | |
| --- | --- |
| Additional Points of Interest | |
---
Copyright © 2009-15 Benjamin Prepelka
All Rights Reserved