Scenic USA - Florida
Scenic USA offers a collection of select photographs from a wide variety of historic sites, points of interest, and a large
sampling of America's parklands. Each photo feature is coupled with a brief explanation.
For further detailed information, links to other related sites are provided, but in no means should they be considered an endorsement.
Porcher House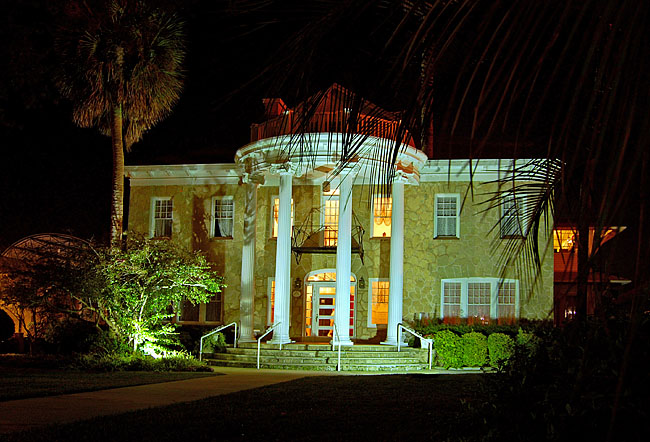 Predating its famous neighbor Cocoa Beach by more than 50 years, Cocoa began as sparsely settled community during the 1860's. One of a string of riverfront towns that slowly grew along the Indian River, Cocoa residents subsisted on farming, fishing, ranching and lumbering. With its close proximity to the warm Gulf Stream, and thriving on an ideal amount of rainfall and soils rich in calcium, Indian River citrus became one of the leading industries in the area. Without roads or a railroad in the area, the only way to reach Cocoa was by river. Drawn to the smell of fragrant orange blossoms, Captain Douglas Dummitt was instantly hooked, and was first to establish an orange grove along Florida's east coast in the 1820s.
Born in Greenville, South Carolina, Edward Postell Porcher moved to Florida in 1884. Upon acquiring land in Courtney on Merritt Island, Porcher planted his Deerfield Citrus Grove along the Indian River. Porcher became the largest grower in Brevard County and eventually moved his business to the mainland in Cocoa, taking advantage of the freshly laid track of the Florida East Coast Railway.
Designed by his wife, Byrnina Peck, the ten bedroom Porcher House took shape in 1916. Built of native coquina rock, the interior was finished in teak, oak and cedar. The three story Porcher House is one of the finest representations of an early 20th century Federal style, embellished with classical elements and adapted to suit the tropical Florida climate. This 5000 square foot Cocoa landmark is one of the noteworthy structures in historic Cocoa Village. With assistance from state and local funds, the Porcher house received extensive restorations from its sills to the rafters. A widow's walk was added to the roofline, replicated from vintage photographs. Now placed on the National Register of Historic places, the Porcher House is open for public viewing and special social functions.
Copyright ©2011 Benjamin Prepelka
All Rights Reserved