Scenic USA - Florida

Tropical Trail
---
---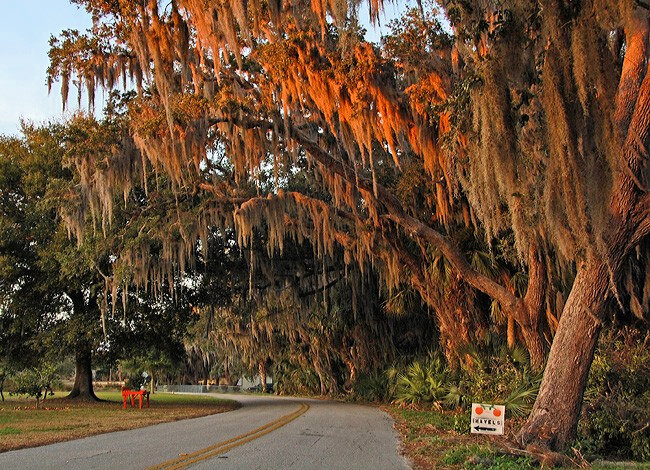 Covering more than 150 miles of Central Florida's east coast, the Indian River Lagoon Scenic Byway follows both east and west sides of a broad estuary.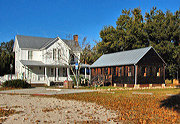 On the northeast side of the Indian River, State Road 3 cuts straight though Merritt Island, leading to Kennedy Space Center, one of the many highlights of this byway. Less than a quarter mile from this major roadway, a peaceful two lane road, lined with ancient live oaks, cabbage palms and pine trees, rewards savy byway visitors with a trip back in time to another century.
Here on North Tropical Trail, unattended Indian River fruit stands are still commonplace. Overhanging roadside trees are draped in Spanish moss, and small orange groves still line the riverbanks. Two of the county's oldest landmarks still survive here on Merritt Island.
Recently renovated, the Sams Family Homestead portrays the lives of early Indian River homesteaders.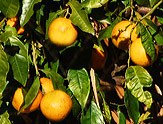 Moving from South Carolina in 1875, John Hanahan Sams and his wife Sarah arrived with their five children hoping to obtain 156 acres of land through the Homestead Act. The Sams House at the Pine Island Conservation Area features both the original 1875 family cabin, plus the 1888 classic vernacular style 1260 square foot two-story home.
Using grab hoes back-breaking hand labor, the Sams family yanked out tenacious palmetto roots one by one, clearing an acre every month. From six acres of sugar cane, the Sams were able to sell 650 gallons of syrup while waiting for their five acres of orange groves to bear fruit. By 1888, John Sams had built a new house, while coaxing 800 orange trees and 200 pineapple plants into bearing fruit. Oranges and pineapples were shipped to the North on Indian River steamboats, and the Sams family enjoyed periods of sucess until the Depression Era.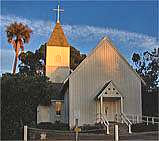 In the tiny community of Courtenay, the LaRoches, Porchers and Samses worshiped in the Sams home. By 1886, the Diocese of Florida established the Saint Luke's Mission. A church building followed in 1888 on land contributed by Edward Porcher. Although replaced by a modern church building, the old chapel still remains, surrounded by the St. Luke's burial ground.
Unknowingly, as cars stream by on adjacent State Road 3, remnants of a late 19th century community on Tropical Trail carry on in memory of these hard working pioneers.

Area Map
---
| | |
| --- | --- |
| Additional Points of Interest | |
---
Copyright © 2012-15 Benjamin Prepelka
All Rights Reserved