Scenic USA - Florida

Lighthouse Trail
---
---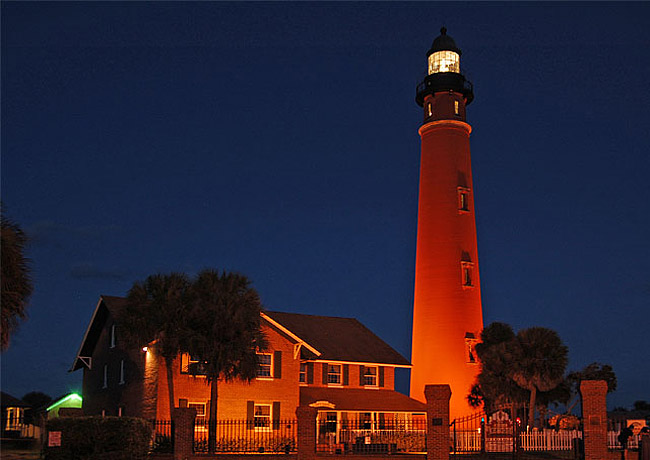 Florida's territory, from the western tip in the panhandle near Pensacola to the southern tip of the peninsula at Key West, covers more than 1000 miles. From a casual glance at a Florida map these distances are quite deceptive ... until you begin to drive them. In fact, Florida's east coast, from Amelia Island to Key West, would take more than eight hours of interstate driving.
Skipping Interstate 95 and taking east coast scenic routes may take a little longer, but the rewards are great. Here along the coastline, lighthouse fans and sightseers are in for a real Florida experience. These four sections, the North, Central, Southern and Florida Keys byways (see links below), total up 500 miles of historic landmarks, dozens of beaches and a myriad of charming communities. At least 18 lighthouses are spaced out from start to finish, with seven allowing varied times of access. Of these seven, most feature tours and museums. For the rest, some are located on military bases and others are simple skeletal towers and mark offshore reefs. The Key Largo Lighthouse site is privately owned and is rented to wedding parties. All but one of the featured lighthouses are constructed in the classical masonry style, while the Hillsboro Lighthouse is a 137 foot octagonal skeletal tower, built in Michigan and shipped on a 4000 mile journey to Pompano Beach.

A1A Scenic & Historic Coastal Byway
Indian River Lagoon National Scenic Byway
Broward County A1A Scenic Highway
Florida Keys Scenic Highway

Florida's oldest, the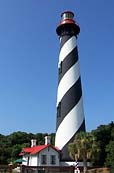 Amelia Island Lighthouse dates back to the state's Territorial Period. The lighthouse rests on a tall dune overlooking coastal marshland and the Atlantic Ocean. Tours of the lighthouse can be booked in advance, conducted the first and third Wednesday of the month. The grounds are open from 11am to 2pm every Saturday.

Climb to the top of the Saint Augustine Lighthouse (inset right) and enjoy a majestic view of the nation's oldest city. Open daily from 9am to 6pm (except during Thanksgiving Day and Christmas Day). Extended hours apply during holidays and summer months.

At the Ponce Inlet Lighthouse (main photo above) small group-tours are offered through a program called Climb with the Keepers. Museum exhibits add a fascinating look at lighthouse equipment, area shipwrecks and lives of the lighthouse keepers. The lighthouse and museum are open daily at 10am.

A stop at Cape Canaveral Lighthouse is now available as part of a history tour of the Cape Canaveral Air Force Station. See some of the first launch sites at the Cape as well as the historic lighthouse. Visitors are welcome to climb to the 5th floor and see how the lightkeepers transported the fuel oil up the circular staircase. Canaveral bus tours begin at the Exploration Tower in Port Canaveral.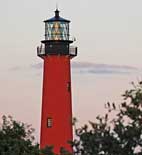 The Jupiter Inlet Lighthouse (inset left) and Museum offer climbing tours of Jupiter Light, exhibits in the waterfront history museum and birds-eye-views of Jupiter Inlet. The Lighthouse is on a US Coast Guard base and visitors are permitted access through a guided tour only. Tours run most every day, from 10am to 4pm.

Hillsboro Lighthouse Preservation Society members have installed signs at 18 points of interests at this U.S. Coast Guard Light Station. You may take the The Hillsboro Lighthouse walking tour on your own or go with a guide. The U.S. Coast Guard has licensed HLPS for up to 4 tour days each year. Phone 954-942-2102 for info.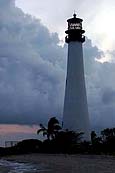 Located in Bill Baggs Cape Florida State Park in Key Biscayne, the Cape Florida Lighthouse (inset right) is the oldest standing structure in Miami-Dade County. The park grounds are open seven days a week from 9am to 5pm. Guided tours of the lighthouse and lighthouse keeper´s cottage are given twice daily, Thursdays through Mondays. (Driving note: a few main highways in the Miami area require a Sun Pass transponder for toll collection. Those without, don't worry, license plate owners will be billed via the U.S. Mail)

Key West visitors are invited to climb 88 steps to the top of the light and explore the lighthouse keepers quarters. The Key West Lighthouse stands as a memorial to Key West's maritime heritage and to the men and women who bravely kept the light burning. The lighthouse is open daily from 9:30am to 4:30pm and closed on Christmas Day.

Florida East Lighthouse Trail
---
East Coast Lighthouse Tour
North Florida to South FL
---
Copyright © 2013-15 Benjamin Prepelka
All Rights Reserved