Scenic USA - Colorado
Scenic USA offers a collection of select photographs from a wide variety of attractions, points of interest, historic sites, state and
national parks found throughout the United States. Each photo feature is coupled with a brief explanation.
For further detailed information, links to other related sites are provided.
Cripple Creek & Victor Railroad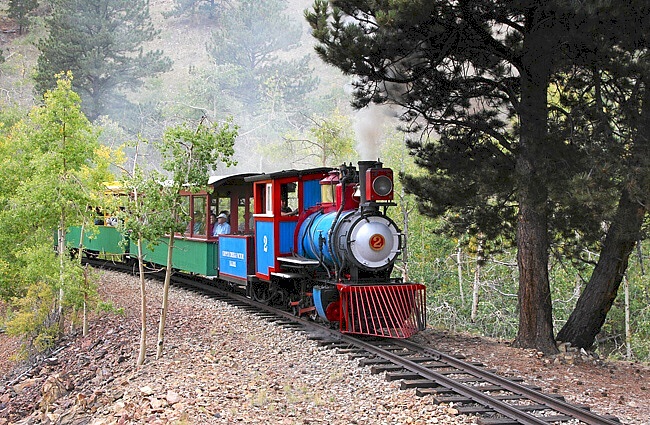 The great gold deposits of Cripple Creek remained undetected for 40 years after the California Gold Rush. Locked in ore containing Tellurium, any free gold was tarnished and went undetected. The Cripple Creek area also received a bad reputation after the Mt. Pisgah hoax, a scheme hatched by Chicken Bill that nearly cost him his life.
Working as a hand at the Broken Box Ranch, Bill Womack continued prospecting during his spare time, holding a dream of becoming rich. His persistence paid off, and led to the formation of the Cripple Creek Mining District. New methods for extraction quickly produced one of the largest gold strikes in history.
Lying in the Shadows of Pike Peak, travel was difficult. Moving ore through the mountains in a wagon was next to impossible. During the peak of mining activities, transportation of ore to the smelter, hauling in passengers and supplies was enough work for three railroads and two electric trolleys.
The days of mining's rags to riches stories are over, but the area's scenic wonders remain. What better way to enjoy the view and hear all about the rough and rowdy days of the past, than aboard the Cripple Creek & Victor Railroad. The four mile roundtrip follows the old rail route, taking in Echo Valley, historic mines and the mining camp of Anaconda. Three coal fired locomotives are ready to take visitors on the 45 minute tour. Pictured here is old #2, a German, 15 ton Henschel and Sonn engine, built in 1936. The railroad has been back in service since 1967, treating passengers to extraordinary views of the Colorado countryside.
Copyright © 2009 Benjamin Prepelka
All Rights Reserved