Scenic USA - Colorado
Scenic USA offers a collection of select photographs from a wide variety of attractions, points of interest, historic sites, state and
national parks found throughout the United States. Each photo feature is coupled with a brief explanation.
For further detailed information, links to other related sites are provided.
Cadet Chapel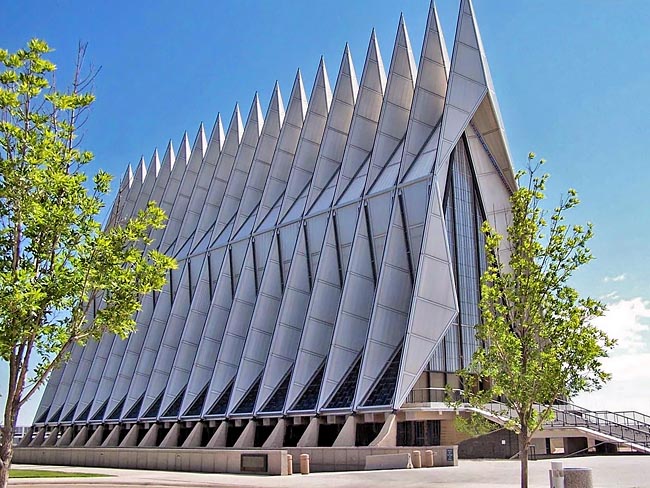 Radical change, veering from the traditional, seems to always be steeped in controversy. This Colorado Springs architectural marvel, surprisingly the Air Force Academy's Cadet Chapel, was no exception. The spired modernistic building shocked many critics in the late 1950s.
With the help of President Eisenhower, the Air Force Academy Act was signed into law in April, 1954. The architectural firm of Skidmore, Owings and Merrill created a twenty-first century look for the academy. Taking an about face from traditional architecture, the design called for aluminum, glass and concrete for a fresh appearance. The crisp, straight edges mimic the Air Force's bread and butter, aircraft and missiles.
As with any radical change, the controversy died. The design became fully appreciated, and the Air Force Academy and chapel has become one of Colorado's main tourist destinations.
Copyright © 2006 Benjamin Prepelka
All Rights Reserved