Scenic USA - Colorado

Garden of the Gods
---
---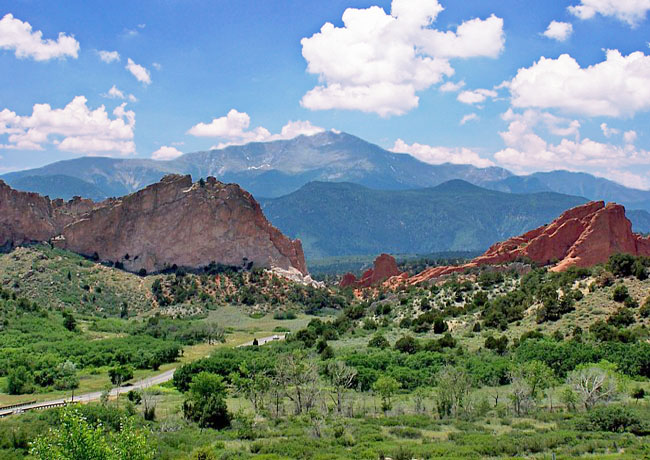 In 1859 two surveyors from Denver set out to measure and plat an area just west of Colorado Springs.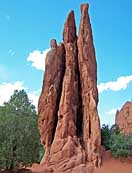 First called Red Rock Corral, one surveyor commented that this land, nearby Manitou Springs, would be great for a beer garden. His helper, Rufus Cable, was awestruck by the marvelous scenery and countered, this place is fit for gods to assemble ... and the Garden of the Gods name has endured to this day.
   Charles Perking, head of Burlington Railroad, purchased 480 acres in the Garden of the Gods area for a summer home in 1879. When Perkins died in 1907, his heirs conveyed the property to the City of Colorado Springs. The Perkins family gift included a caveat that property would continue as a free public park. The city has added additional land over the years and today the park covers over 1300 acres.
   Here in Cathedral Valley the park's unusual geological formations indicate an extreme vertical uplift of the Pikes Peak massif. The hogback formations are made up of ancient sedimentary rock, colored in red, pink, and white sandstones. Ancient dinosaur fossils, hiking paths, technical rock climbing, mountain biking and horseback riding attract more than two million visitors every year.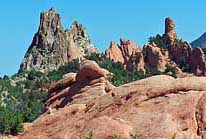 A very popular venue for exploration, more than 15 miles of trails are woven into the parkland. A popular exercise trail for area residents, about a mile and a half pathway cuts right through the center of the park. The main park trail, named for the Perkins family, is a paved and is wheelchair-accessible, displaying some of the park's most scenic landscape.
   Lying in the shadows of the 14,000 foot Pikes Peak, this National Natural Landmark doesn't fit the traditional mold of a city park, especially with its impressive rock formations, mountain biking routes, horseback riding trails and rock climbing opportunities. Entertaining visitors from all over the world, the park is open for extended hours during peak season from May through September.

    Area Map
---
| | |
| --- | --- |
| Additional Points of Interest | |
---
Copyright © 2006-15 Benjamin Prepelka
All Rights Reserved