Scenic USA - West Virginia
Scenic USA offers a collection of select photographs from a wide variety of attractions, points of interest, historic sites, state and
national parks found throughout the United States. Each photo feature is coupled with a brief explanation.
For further detailed information, links to other related sites are provided.
Palace of Gold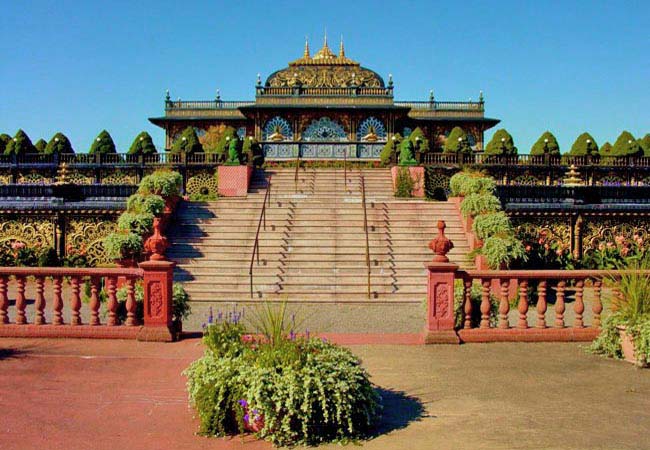 You'd expect to find this Palace of Gold tucked into the hills of an Asian country, but not in West Virginia. Those driving through the farmland near Moundsville for the first time, may come upon this surprise perched atop a distant hillside.
Not only did the late 1960s set off a new era of Rock n Roll, from Monterey to Woodstock, but also touched a large group of young people in a different way, especially those anxious to distance themselves from the Vietnam War and the government's thumb. This age was right for a new Vrindaban community based on Prahupada's dream of an ideal society. Engineers, artisans, gardeners, craftsmen and students, totaling nearly 1,000 by 1980, made their way to West Virginia hills. Spending seven years, working night and day, the devoted group completed this tribute to His Divine Grace Bhaktivedanta Swami Prabhupada.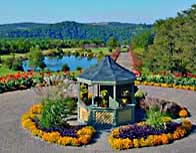 Sometimes called America's Taj Mahal, the splendid palace is still regarded as breathtaking. Notable features include Austrian crystal chandeliers, incredible stained glass windows, intricately carved teakwood furnishings, glorious murals of Hindu Lord Krishna, and award winning gardens. Today, membership has faded along with the palace frescos, but a group of faithful followers still work hard performing maintenance and limited attempts of restoration to all this splendor. You may have guessed, money remains their largest obstacle. Tours are available most any day; and the Palace, its outbuildings, statues and gardens are still a vision to behold.
Copyright ©2006-2009 Benjamin Prepelka
All Rights Reserved