Scenic USA - West Virginia

Potomac Highlands Scenic Drive
---
---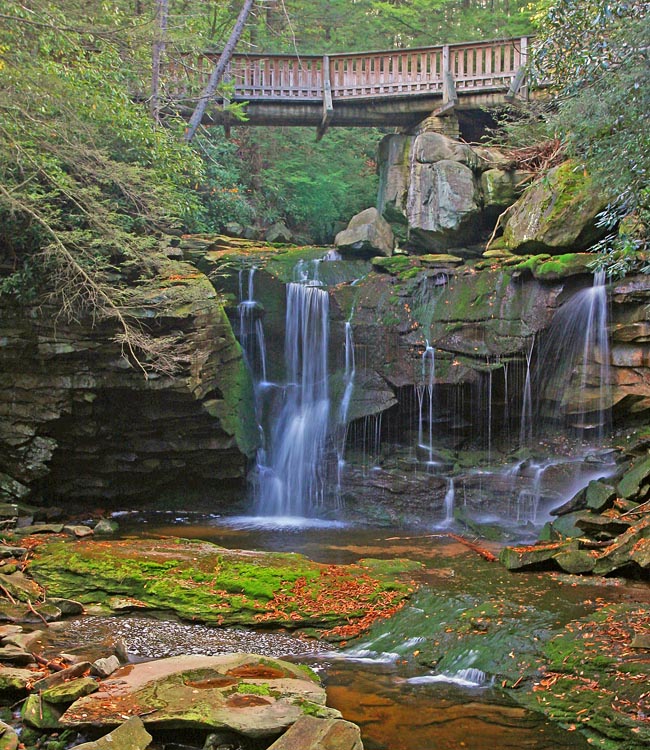 West Virginia, almost heaven to John Denver, rewards its visitors with scenic views mile after mile. It's the state with the highest mean altitude east of the Mississippi River, and it's also covered in eighty percent forestland. The state's eastern border with Virginia is rippled with Appalachian Mountains, creating the wonderful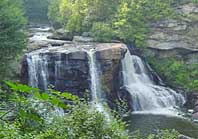 terrain that lends to the Mountain State nickname. The Potomac Highlands Region here simply refers to this eastern area where the headwaters of the Potomac River are located.
   The Potomac Highlands Scenic Drive is one of the best ways to get acquainted with this wonderful section of the state. Starting out from Elkins, the scenic drive heads in a northeasterly direction through the Monongahela National Forest on U.S. Route 48/219. The first stop is one of the most picturesque destinations in the state, the Blackwater Falls State Park. Pictured here is Elakala Falls, a beautiful cascade in the park that's often overshadowed by the park's namesake, Blackwater Falls. Shay Run, a small tributary, tumbles toward the Blackwater River nearby the park lodge, creating this scenic wonder. Of course there's no doubt that park visitors will stop to enjoy the sight of Blackwater Falls before they continue on the byway journey.
Just to south, a short side trip to Canaan Valley Resort State Park is well worth the detour.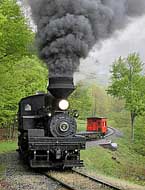 Part of a gorgeous high altitude valley, Canaan Valley is tucked among some of the highest peaks of the Allegheny Mountains. Back on track, the drive heads south again to the town of Seneca Rocks where you'll find one of the most famous landmarks in the state at Seneca Rocks Discovery Center. After viewing this impressive rock formation, a few miles to the south of town is a cool underground attraction at Seneca Caverns.
   The next two highlights of the trip are further to the south at Green Bank Observatory and the Cass Railroad. For steam-driven locomotive fans, several train excursions leave from Cass and vary from two to four hours. If you're not into trains or train rides,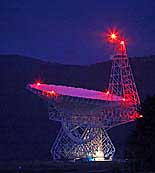 you may wish to tour the historic town of Cass and grab a bite of lunch. The Green Bank Observatory in Pocahontas County continues its search for extraterrestrial intelligence. Visitors are treated to guided bus tours of the telescopes, including the largest moving telescope in the world.
   The last leg of the drive passes the birthplace of Pearl S. Buck and three more state parks. The Droop Mountain Battlefield, Watoga, and Beartown State Park are near the end of this 200 mile adventure, but the last stop is near Lewisburg and I-64. For those who enjoyed the stop at Seneca Caves, spelunkers may descend 120 feet underground again at the Lost World Caverns. Always a cool 52 degrees, you may want to remember a jacket for this 35 minute cave tour.
   Although it's possible to drive this byway route under six hours, with so many parks, serendipitous stops and historic sites to enjoy, byway travelers should plan on spending multiple days in the Potomac Highlands.

    Byway Map
---
---
Copyright © 2008-16 Benjamin Prepelka
All Rights Reserved