Scenic USA - Arkansas
Scenic USA offers a collection of select photographs from a wide variety of attractions, points of interest, historic sites, state and
national parks found throughout the United States. Each photo feature is coupled with a brief explanation.
For further detailed information, links to other related sites are provided.
Arkansas Scenic Byway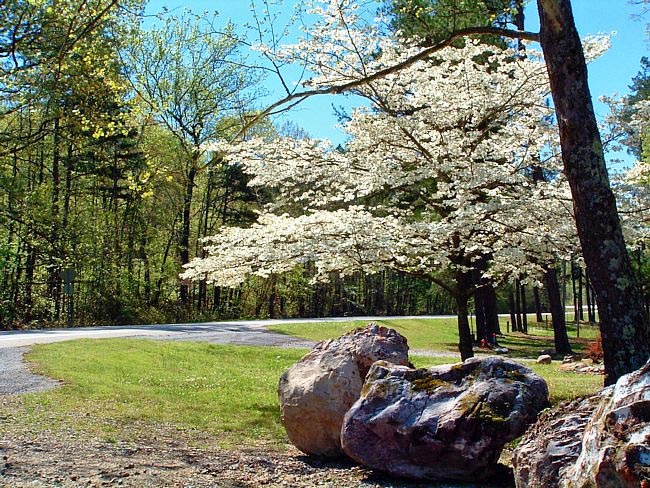 Arkansas Route 7 runs a north-south direction and on a map, it appears to slice the state in two. The route was the state's first designated scenic byway, winding 290 miles from Lead Hill, near the Missouri state line, to El Dorado in the south at the Louisiana border.
Route 7 makes the list of America's top ten scenic byways and passes through a range of wonders. To the north lies Mystic Caverns, Buffalo National River Area, Rotary Ann Overlook, Pedestal Rocks and the woodlands of the Ozark National Forest. Heading toward the south, two state parks, Mount Nebo and Petit Jean State Park grace the Arkansas River Valley. The byway then passes the hot springs area. Pictured here is Route 7 at Blue Springs, with a springtime dogwood in full bloom. Further south is the Hot Springs National Park, Poison Spring Battleground, plus the Ouachita National Forest and Ouachita River.
The entire highway leads through four distinct Arkansas regions, numerous historic sites and miles of dramatic hills and mountain views.
Copyright ©2008 Benjamin Prepelka
All Rights Reserved