Scenic USA - Arkansas
Scenic USA offers a collection of select photographs from a wide variety of attractions, points of interest, historic sites, state and
national parks found throughout the United States. Each photo feature is coupled with a brief explanation.
For further detailed information, links to other related sites are provided.
Pedestal Rocks Scenic Area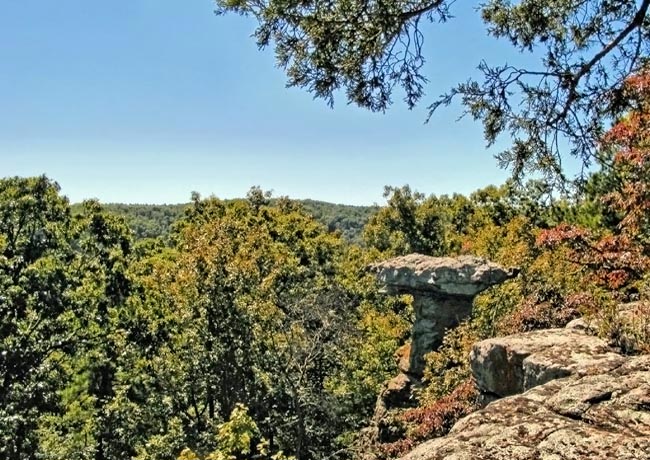 Scenic Highway 7 follows all the ups and downs of northwest Arkansas from the towns of Harrison to Hot Springs. The 300 mile scenic byway crosses the Buffalo and Arkansas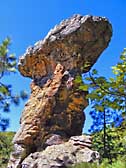 rivers, through two national forests and nearby a dozen natural wonders. Deep in the Ozark National Forest and not far from the town of Pelsor, visitors are treated to a spectacular Arkansas River Valley and a group of geological wonders, the Pedestal Rocks.
The Ozarks National Forest's Pedestal Rocks Scenic Area is viewed by way of two hiking trails. The King's Bluff Loop, just under two miles, leads out to majestic valley views and the King's Bluff waterfall. This seasonal waterfall is one of the tallest in the Ozarks. The Pedestal Rocks Trail leads along a line of sandstone cliffs, the Pedestal Rocks and Arch Rock. These natural wonders, carved by centuries of erosion, are found along the cliff sides. A cautious approach is recommended as only a few rail restraints are in place. The return trail of the loop, crossing through a hardwood forest and is much better defined than the trail along the cliffs.
Copyright © 2009 Benjamin Prepelka
All Rights Reserved