Scenic USA - Arkansas
Scenic USA offers a collection of select photographs from a wide variety of attractions, points of interest, historic sites, state parks and
national parks found throughout the United States. Each photo feature is coupled with a brief explanation.
For further detailed information, links to other related sites are provided.
Arkansas River Valley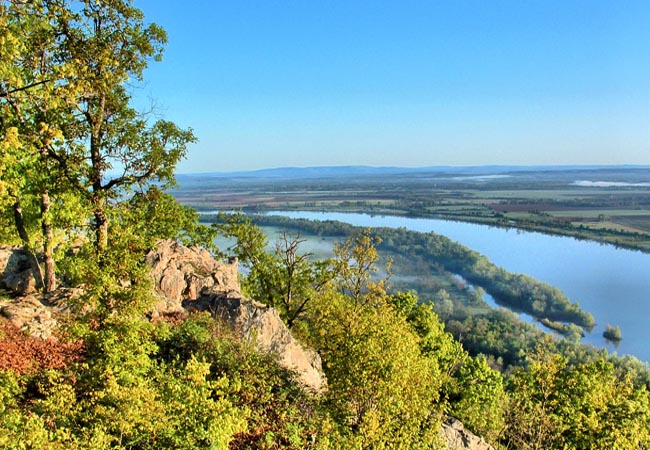 The legend of Petit Jean is a tale of young love and new hopes, filled with adventure and sadness. The story begins with a young French couple, engaged to be married in Paris. The groom has signed on with a French exploration party bound for the New World. Clavet, a French nobleman is searching for land in the Louisiana Territory. His fiancée begs to accompany him, but because of the dangers involved, he insists she stay at home. With a clever disguise, Petit Jean is taken on as a cabin boy. The exploration party made their way across the Atlantic, up the Mississippi and into the Arkansas River, where they find the land of their dreams. The natives were cordial and the summer months were used to re-supply the ship for the journey home. Just as the ship was ready for departure, Petit Jean becomes gravely ill. She asks to be returned to her mountain top, where she will die. According to the legend, the spirit of Petit Jean hovers over the mountain to this day. This view is taken from the mountain top, near the gravesite, looking out into the Arkansas River Valley. A cool morning mist hangs alongside the warm river, creating an interesting view from atop Petit Jean State Park.
---
Copyright ©2007 Benjamin Prepelka
All Rights Reserved