Scenic USA - Arkansas
Scenic USA offers a collection of select photographs from a wide variety of historic sites, points of interest, and a large
sampling of America's parklands. Each photo feature is coupled with a brief explanation.
For further detailed information, links to other related sites are provided, but in no means should they be considered an endorsement.
Alum Cove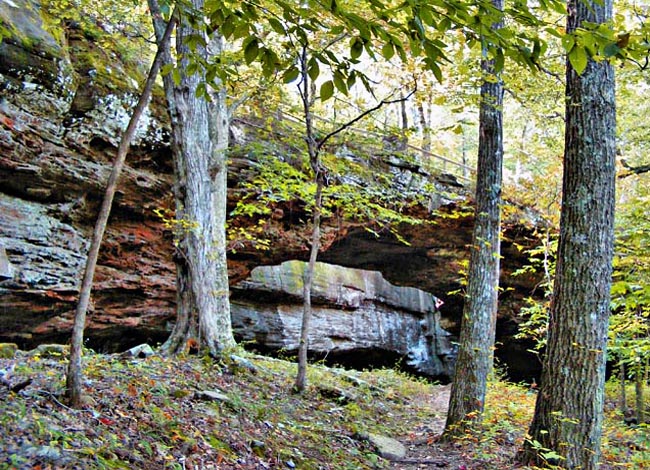 Arkansas, known for its natural beauty and the famous Ozark Mountains, seems custom made for the outdoor lover. Here in the northwest, sections of the Ozark National Forest cover 1.2 million acres.
Just south of Jasper on State Route 327, families may enjoy an easy hike on the Alum Cove National Recreation Trail. This mile long loop hike is appreciated only on foot, as mountain bikes and ATVs are not permitted in this forestland. Part of the Boston Mountain terrain, Alum Cove features a spring forest of redbud, dogwood and umbrella magnolias. On the way to the area's special attraction, a 130 foot long natural bridge, the forest floor is often carpeted in wild flowers.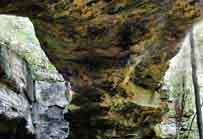 From the parking area, a trail leads down along a rocky bluff line. Rock overhangs and caves were once used as shelters by Native Americans long ago. Now, hikers can walk across the 130 foot natural bridge where a century ago settlers used this bridge to pass over a swollen stream bed. Even during the summer, the tall Arkansas forest provides a cool walk under its canopy. Dense stands of hardwoods, including the America Beech, put on a marvelous show in the autumn. During the winter, when the trees have lost their leaves, Alum Cove's sandstone cliffs stand out along the trail loop. A few benches along the trail offer a chance to stop and take in the Arkansas natural world.
Copyright ©2011 Benjamin Prepelka
All Rights Reserved