Scenic USA - Wisconsin
Each day Scenic USA presents a new and interesting photo feature from somewhere in the United States. Chosen from a wide variety
of historic sites, city scenes, backcountry byways, points of interest and America's best parklands, this site offers the viewer hundreds
of unique vacation destinations and photographic subjects. Each feature is coupled with a brief explanation. For further detailed
information, links to other sites are provided, but are never to be considered an endorsement.
Cascade Falls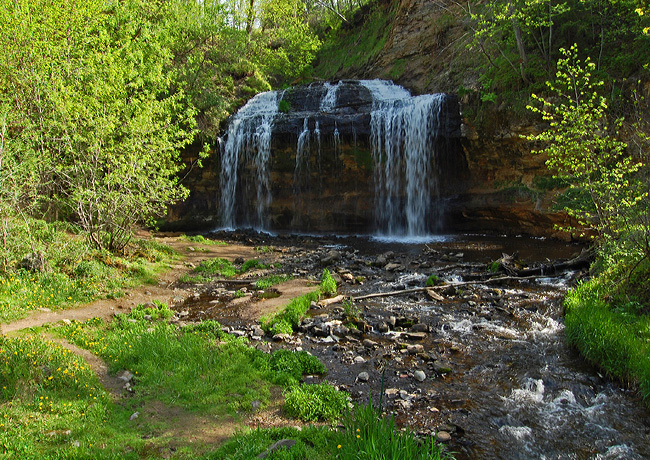 Beginning its 164 mile journey southward, the St. Croix River flows from Upper St. Croix Lake about 20 miles south of Lake Superior. Here in the northwest corner of Wisconsin, the St. Croix and Namekagon rivers create miles of beautiful valley scenery, sections of steep walled gorges and plenty of recreation sites. The majority of this Wild and Scenic River is protected by the St. Croix National Scenic Riverway. The lower St. Croix River, marking the border between Wisconsin and Montana, is surrounded by five state parks, three national forests and two wildlife refuges.
Along with the Namekagon River, the largest tributary of the St. Croix, over a dozen smaller rivers and streams also join the St. Croix before it meets the Mississippi River. One of those small streams, Osceola Creek, runs through the town of Osceola along Route 35. Over its short run, the creek drops over 100 feet before tops Osceola Bluff into the St. Croix. Here in the heart of town, Cascade Falls plunges 25 feet into Wilke Glen. First discovered by William Kent in 1884, the beautiful waterfall setting attracted the town's first settlers.
Part of the Rivers, Rails and Trails Area, the town has provided a park-like setting around the falls area. Here in the Osceola Historic District, several flights of stairs lead down into the glen. Osceola residents don't mind sharing their beautiful waterfall setting, and all are invited to view Cascade and Geiger falls in the glen.
Copyright © 2011 Benjamin Prepelka
All Rights Reserved