Scenic USA - Wisconsin
Scenic USA offers a collection of select photographs from a wide variety of attractions, points of interest, historic sites, state parks and
national parks found throughout the United States. Each photo feature is coupled with a brief explanation.
For further detailed information, links to other related sites are provided.
Octagon House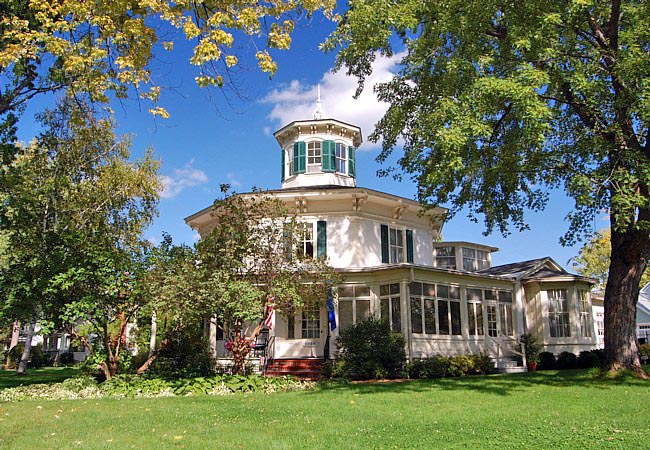 Wisconsin's town of Hudson was established in 1840, witnessing its first homes built at the mouth of Willow River. Here along the beautiful St. Croix River, today's Hudson was first christened with a fitting name, Buena Vista. Early residents not only enjoyed the economic boom from a bustling lumber business, but this wonderful river setting. The busy St. Croix saw a steady stream of packet boats, steam powered stern wheelers and side wheeler river boats. Reminiscent of New York's Hudson River, the town's first mayor lobbied to have the name changed to Hudson.
Today, Hudson still appreciates the St. Croix River, now protected with a congressional decree of national scenic riverway. The Octagon House, pictured here, is a fine example of a popular mid 1800s styled home. Built for Judge John Shaw and his wife Nancy, the Moffat-Hughes family lived on in this stucco clad home for over a century. Now property of the St. Croix County Historical Society, the Octagon House maintains its authentic mid 19th Century look. Complete with Victorian furnishings, the complex includes the Carriage House, and a true Victorian garden. The museum complex, located on 1004 3rd Street, is open for tours and is easily accessed from I-94, near the Wisconsin – Minnesota border.
Copyright ©2010 Benjamin Prepelka
All Rights Reserved