Scenic USA - West Virginia
Each day Scenic USA presents a new and interesting photo feature from somewhere in the United States. Chosen from a wide variety
of historic sites, city scenes, backcountry byways, points of interest and America's best parklands, this site offers the viewer hundreds
of unique vacation destinations and photographic subjects. Each feature is coupled with a brief explanation. For further detailed
information, links to other sites are provided, but are never to be considered an endorsement.
The Greenbrier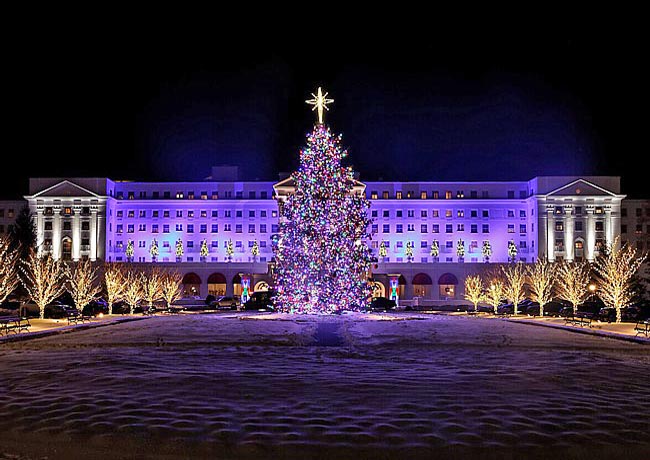 Glowing with the holiday spirit, this dramatic head on view captures one of the finest resorts in the world. This National Historic Landmark has been entertaining guests since 1778 in the White Sulphur Springs area of West Virginia. The Greenbrier is surrounded by the Allegheny Mountains, offering complementary landscaping, championship golf courses, and a 6500 acre playground. Famous golfer, Sam Snead, established the Greenbrier as one of the world's foremost golfing destinations. The Old White Course was recently renovated, following an original design first laid out in 1914 by C.B. Macdonald. During mid summer, the resort now hosts the PGA'S Greenbrier Golf Classic.
Billed as Queen of the Watering Places, this resort became the destination for the well-to-do in the 1800s. Attracting the Southern elite, the resort's sulphur waters were a sure cure for everything from ulcers to rheumatism. Today's 40,000 square foot spa focuses on treatments using natural essences, minerals and hydrotherapy. Taking advantage of the native sulphur waters, guests may enjoy a whirlpool, steam room or sauna. One of 30 worldwide spas that earned a five-star rating, the Greenbrier continues the 230 year tradition of therapeutic spa treatments. The Greenbrier Clinic prides itself optimal therapy and personalized care.
Copyright © 2011 Benjamin Prepelka
All Rights Reserved