Scenic USA - Missouri
Scenic USA offers a collection of select photographs from a wide variety of attractions, points of interest, historic sites, state and
national parks found throughout the United States. Each photo feature is coupled with a brief explanation.
For further detailed information, links to other related sites are provided.
Bollinger Mill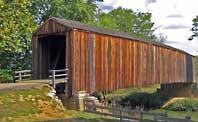 A peaceful 43 wooded acres surrounds the 140 year old mill at Bollinger Mill State Historic Site. This Missouri park features a working grist mill, powered by the Whitewater River. The mill still contains the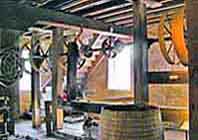 necessary equipment to produce flour and meal. The river current was diverted through the limestone foundation and a water turbine, powering the mill machinery. The four story building wasn't the first mill on the property, as the original millhouse was burned by Union troops. The popular mill was quickly rebuilt in 1867 by Sherman R. Burford. The following year a covered bridge was built adjacent the mill, providing easy access to the nearby town of Burfordville. It was George Frederick Bollinger that headed west from Carolina and first envisioned a new mill in this remote region of eastern Missouri in the early 1800s. Along with the mill's success, a new town and connecting road soon followed.
Copyright ©2007 Benjamin Prepelka
All Rights Reserved