Scenic USA - Arizona
Scenic USA offers a collection of select photographs from a wide variety of attractions, points of interest, historic sites, state and
national parks found throughout the United States. Each photo feature is coupled with a brief explanation.
For further detailed information, links to other related sites are provided.
Superstition Mountains Scenic Byway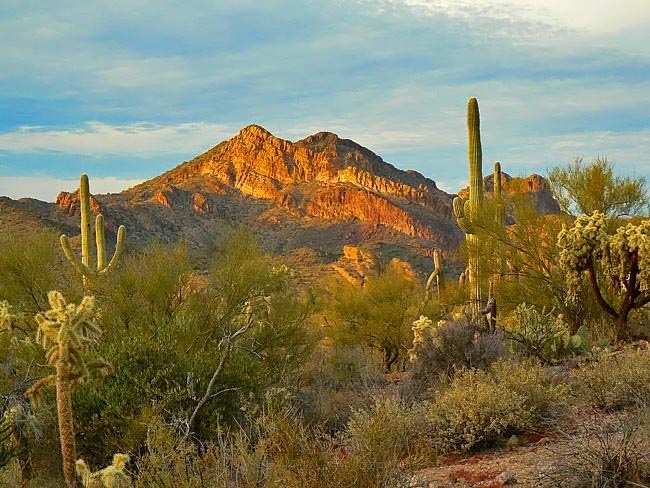 Up from Apache Junction on Arizona's

scenic Route 88, a highway that passes by the Lost Dutchman State Park, leads to an uphill climb into the Superstition Mountains. This scenic byway borders on the edge of wilderness land and threads through the rocky ridges and distinct desert country. A land covered in mesquite, jojoba, menacing

prickly pear and jumping cholla. The large Saguaro arms seem to wave off intruders with a warning, careful where you step.
Weaver's Needle, a towering volcanic remnant, dominates the landscape with its 1000 foot tall neck. This area consists of a land formed by hot magma, both above (extrusive) and below (intrusive) the earth's surface. Although the area has never been proven to be highly mineralized, the legend of the Lost Dutchman's Mine continues to lure the curious, as well as the determined believers. A rich vein of gold, indicated by the needle's shadow, has eluded thousands since Jacob Waltz left behind his clues in 1891.
Copyright ©2007 Benjamin Prepelka
All Rights Reserved