Scenic USA - Michigan
Scenic USA offers a collection of select photographs from a wide variety of attractions, points of interest, historic sites, state and
national parks found throughout the United States. Each photo feature is coupled with a brief explanation.
For further detailed information, links to other related sites are provided.
Whitefish Point Light Station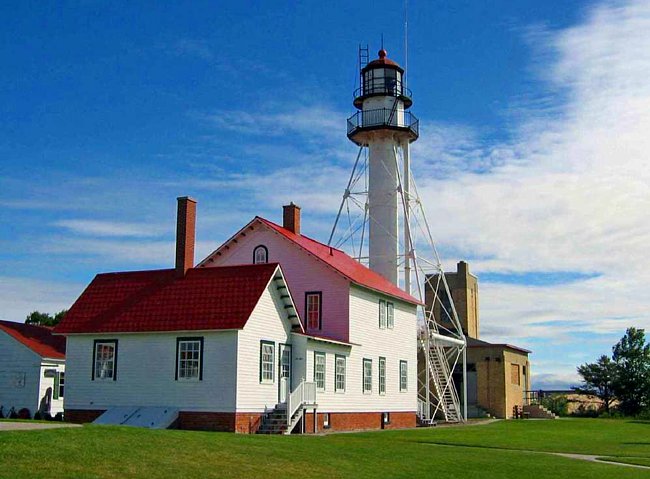 Eight Great Lake states have depended on the ease of water transporation for the last 150 years. Historically, Whitefish Bay has been a haven for ships seeking protection from the devastating storms of Lake Superior. Located on Michigan's Upper Peninsula, Whitefish Point was known as the Graveyard of Ships. More vessels have been lost in this area than anywhere else on the lake. Whitefish Point juts out into Lake Superior's southeast corner, forming the bay where Whitefish Point Light Station overlooks the entrance to the harbor.
The lighthouse, together with the Copper Harbor Lighthouse, were the first lighthouses on Lake Superior. First lit in 1849, Whitefish Point is the oldest active lighthouse on Lake Superior. The only time the light stopped shining was November 10, 1975, the night the Edmund Fitzgerald went down in what has been called one of the worst storms ever seen. That night, the vessel was lost while attempting to reach the protection of Whitefish Bay. Each year since then, a memorial service is held at the Whitefish Point Light Station. At that time, the ship's bell, reportedly the only artifact recovered from the wreckage, is rung 30 times – once for each of the 29 Edmund Fitzgerald crew members and once for all mariners who have been lost at sea.
The original Whitefish Point Light Station was built in 1848 and replaced in 1861 with an 80-foot-tall steel cylinder in a skeletal design capable of withstanding high winds. One of the buildings on the property houses the Great Lakes Shipwreck Museum, opened in 1986 by the Great Lakes Shipwreck Historical Society. The museum includes the Edmund Fitzgerald's bell and other interesting artifacts.
Copyright ©2007-16 Benjamin Prepelka
All Rights Reserved