Scenic USA - Arizona
Scenic USA offers a collection of select photographs from a wide variety of attractions, points of interest, historic sites, state parks and
national parks found throughout the United States. Each photo feature is coupled with a brief explanation.
For further detailed information, links to other related sites are provided.
Camelback Mountain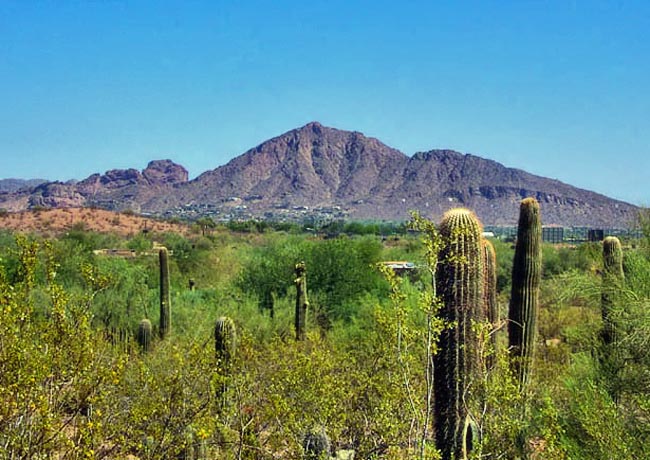 Inspiring thousands of Phoenix residents and visitors to take up a hiking challenge, Camelback Mountain stands as a prominent 2700 foot landmark near the center of the metro area. Despite early attempts to preserve the mountain land for public use, today the Camelback Mountain area is a mix of homes, resorts, and golf courses. The area was briefly folded into the Pima and Maricopa Indian Reservation, but was quickly withdrawn to protect the area's 5000 residents. With its lure of sunshine and fair weather, the Phoenix metropolitan area has grown into the fifth largest city in the United States.
Camelback, named for its appearance (to some) of the kneeling camel, is made up of two distinct rock formations. The peak is composed of ancient Precambrian granite, while the head is relatively recent red sandstone. Four Echo Canyon Recreation Area trails weave up and around the mountain, with Echo Canyon and Cholla trails leading to the top. Thanks to the efforts of Barry Goldwater, the top portion of the mountain was secured as a day park. Open from sunrise to sunset, plan for as much as three hours for the climb to the top. Hikers are cautioned that summit trails can be tricky and strenuous, and are not recommended for beginners.
Copyright ©2010 Benjamin Prepelka
All Rights Reserved