Scenic USA - Arizona
Scenic USA offers a collection of select photographs from a wide variety of attractions, points of interest, historic sites, state parks and
national parks found throughout the United States. Each photo feature is coupled with a brief explanation.
For further detailed information, links to other related sites are provided.
Superstition's Crosscut Trail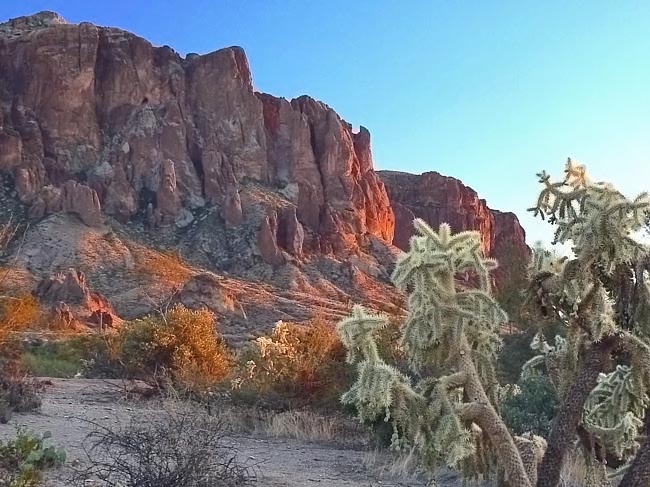 Arizona's Valley of the Sun takes in the state capital of Phoenix and surrounding cities. The valley is wrapped in mountain ranges, and one in particular, the spooky and legendary Superstition Mountains. Just 40 miles to the east of Phoenix is the Lost Dutchman State Park and the Superstition Wilderness. Here in the Tonto National Forest the Superstitions have long been the subject of tall tales, Indian lore and stories of the Lost Dutchman's Mine.
Once sacred ground of the Apache, Superstition Wilderness trails are not all about hidden gold, but offer a look at natural treasures, such as Sonoran Desert plants, wild animals and 3000 foot jagged mountain peaks. Pictured here is a view along the Crosscut Trail. Not even having a remote chance at being cuddly, the Teddy Bear Cholla, or Jumping Cholla in the foreground begs for your upmost attention, and is destined to attach to some part of your hiking attire.
Copyright ©2007 Benjamin Prepelka
All Rights Reserved