Scenic USA - New York

Springwood, Home of FDR
---
---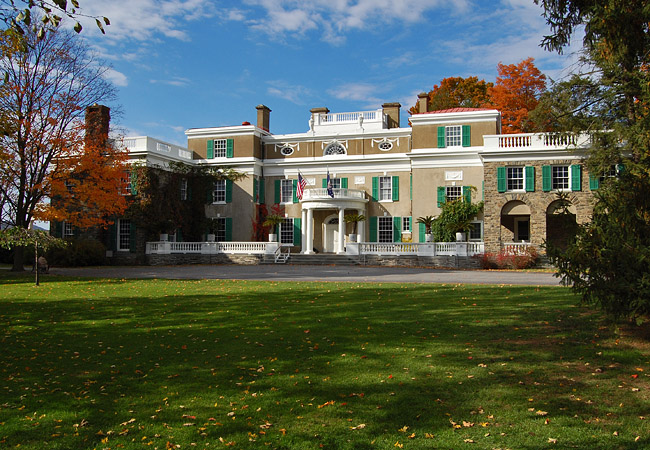 Born in 1882, Franklin D. Roosevelt came from a long line of prominent New York Roosevelts. Although wealthy, spending their winters in New York City and summers on the Canadian Island of Campobello, Franklin's father James Roosevelt highly disapproved of showing his wealth. Their home on the Hudson, purchased in 1867, was of modest taste compared to the line of estates and mansions in the Hudson River Valley. The Springwood home was a large farmhouse built around 1800. Already featuring a three story tower and full length porch, James Roosevelt (Sr.) added two rooms, enlarged the servants quarters wing, and built a large carriage house for his prized horses. The family enjoyed the Springwood property, raising cattle and horses, hunting, fishing and boating. Young Franklin enjoyed the outdoors, remembering his childhood days in the estate's woods and fields as a paradise.
   By 1915, another tower was added to the Springwood to balance the facade, featuring large fieldstone wings. The exterior was stuccoed, a third story added, and a large fieldstone terrace and a columned portico replaced the porch.
The Springwood Home and surrounding 33 acres were donated to the American people by FDR in 1943.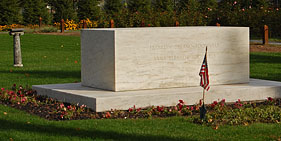 Here at the National Historic Site, FDR's life as New York Governor and America's only four term president is celebrated. Greeted at the Henry A Wallace Visitor Center, visitors will find the FDR Library and Museum, numerous outbuildings, the Springwood Home, and Franklin and Eleanor Roosevelt's gravesite. Admission to the Springwood grounds is free and open from sunrise to sunset every day. Tours tickets are available at the Henry A. Wallace Visitor and Education Center for the Springwood, and include the FDR Presidential Library and Museum.

    Directions
---
Nearby Points of Interest
---
Copyright © 2012-16 Benjamin Prepelka
All Rights Reserved