Scenic USA - New York
Each day Scenic USA presents a new and exciting photo feature from somewhere in the United States. Chosen from a wide variety
of historic sites, city scenes, backcountry byways, points of interest and America's best parklands, this site offers the viewer hundreds
of unique travel destinations and vacation ideas. Each feature is coupled with a brief explanation. For further detailed information, links
to other related sites are provided, but are never to be considered an endorsement.
Hudson River Valley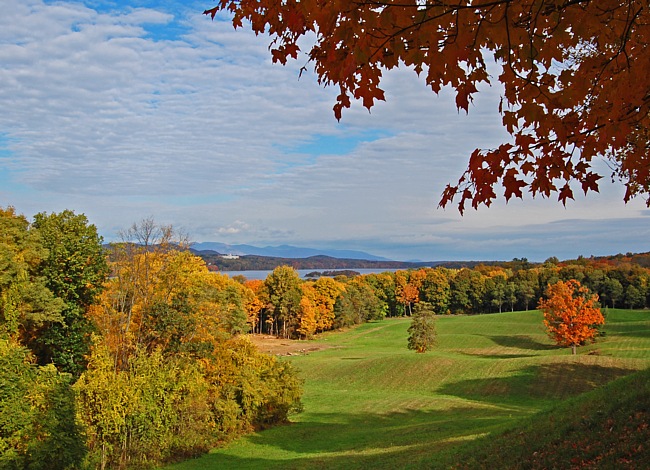 Named after explorer Henry Hudson, the Hudson River officially begins in the Adirondack Mountains as Feldspar Brook. Over its 315 mile course, the Hudson is divided into three separate sections. The Lower Hudson, a tidal estuary, empties into Upper New York Bay. Becoming an important shipping channel to the Great Lakes Region, the middle Hudson was linked near its halfway point to the Erie Canal in 1825. One of the most important regions in the United States, the Hudson River Valley was recognized as a National Heritage Area in 1996.
Out of 84 designated Hudson River Valley historic sites, a few of the standouts include the Kykuit (the Rockefeller Estate), West Point Museum, Sunnyside (Washington Irving's residence), Boscobel House and Gardens, Lyndhurst, and Philipsburg Manor Upper Mills. Visitors will find each side of the Hudson River lined with historic homes of America's luminaries and wealthy. Employing the best architects, landscape designers and interior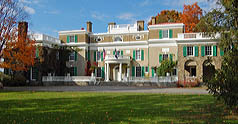 decorators, America's aristocracy erected unique mansions, palaces and Hudson River homes. Seven lighthouses also line the Hudson River, lighting the way for the myriads of maritime traffic between the East Coast and Great Lakes.
At Hyde Park, valley travelers will enjoy all the history connected with the Springwood Estate (inset photo), home to America's only four-term president, Franklin D. Roosevelt. Nearby, the Vanderbilt Mansion recognizes an era and a way of life on the Hudson. The National Park Service invites everyone to come and explore the Hudson River Valley National Heritage Area and the river that defined America.
Copyright © 2011 Benjamin Prepelka
All Rights Reserved