Scenic USA - Hawaii
Each day Scenic USA presents a new and exciting photo feature from somewhere in the United States. Chosen from a wide variety
of historic sites, city scenes, backcountry byways, points of interest and America's best parklands, this site offers the viewer hundreds
of unique travel destinations and vacation ideas. Each feature is coupled with a brief explanation. For further detailed information, links
to other related sites are provided, but are never to be considered an endorsement.
Kilauea Point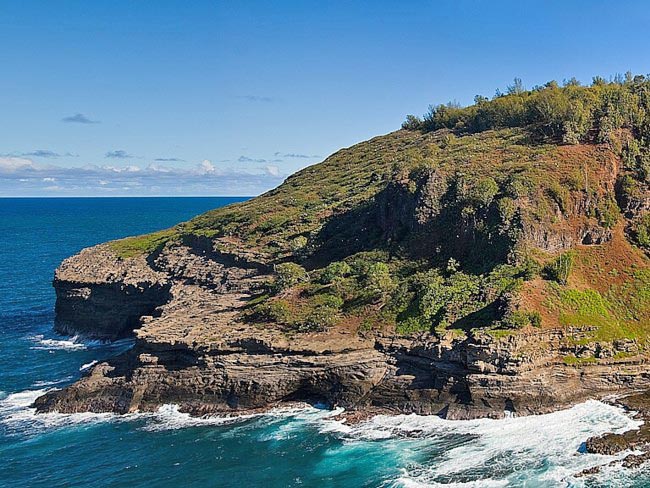 Kilauea Point is located on the northern tip of Kauai, and is also the northernmost point of the Hawaiian Islands. The island of Kauai has two major lighthouses; and Kilauea Point Light is the site that Far East mariners depended on most. From atop Crater Hill dramatic shoreline views sweep out over steep volcanic cliffs and the Kilauea Point National Wildlife Refuge.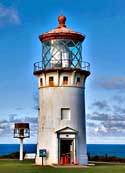 It was these steep cliffs that caused lighthouse work crews just as much labor raising building materials from a nearby ship as it took to build the tower. Completed in 1913, the Kilauea Point Lighthouse used the brightest Fresnel lens made. Built in France and shipped to the island, the four and a half ton, first-order lens broadcast its beam 21 nautical miles into the Pacific.
The Kilauea Point Refuge was established in 1985 to protect a shore birds breeding ground and a refuge for the endangered nene, a Hawaiian goose. Management programs have removed invasive plant species, while reintroducing a variety of native plants. A protective fence helps curb predatory animals that prey on nesting sea birds. Unique to the islands, refuge visitors are now able to spot red-footed boobies, wedge-tailed shearwaters and Laysan Albatross. During the winter months, from January until March, Kilauea Point is an excellent lookout for migrating humpback whales. Any Kauai vacation wouldn't be complete without making the trip to Kilauea Point.
Copyright © 2011 Benjamin Prepelka
All Rights Reserved