Scenic USA - New York
Scenic USA offers a collection of select photographs from a wide variety of attractions, points of interest, historic sites, state parks and
national parks found throughout the United States. Each photo feature is coupled with a brief explanation.
For further detailed information, links to other related sites are provided.
Little Red Lighthouse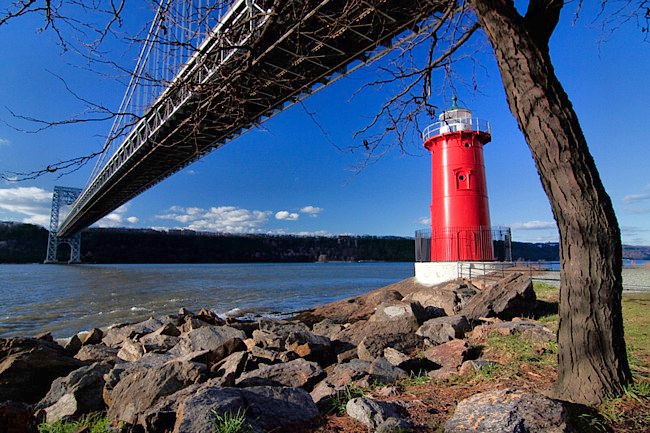 Overshadowed by the George Washington Bridge, Jeffery's Hook Lighthouse was deactivated and seemed destined for the scrapheap. The demise of the Little Red Lighthouse grabbed the city's attention and tugged at the heartstrings of all New Yorkers. After a successful campaign, the little darling was spared, and ownership transferred to the New York City Department of Parks and Recreation.
Described as a very, very proud little lighthouse in Hildegarde Swift's children's book, the 40 foot beacon was moved into place in 1921. Arriving from Sandy Hook, New Jersey, the beacon marked Manhattan Island's northeast edge. The Jeffery's Hook Lighthouse stood in service on the Hudson River until 1947.
Ground breaking on one of man's modern engineering marvels occurred in 1927. Four years later, New York residents witnessed completion of the longest suspension bridge in the world. Still today the George Washington Bridge is considered the busiest bridge in the world, carrying 106 million vehicles over 14 lanes of traffic every year. Beneath the bridge's towering 600 foot supports, Jeffery's Hook Lighthouse appears insignificant, inspiring Swift's Little Red Lighthouse book.
The lighthouse is honored today as a New York City landmark, and celebrated in September during the Little Red Lighthouse Festival. Located inside the cast iron tower, a metal staircase leads tour members to the lantern room. Here a freshly placed beacon flashes over the Hudson once again.
Copyright ©2010 Benjamin Prepelka
All Rights Reserved