Scenic USA - Pennsylvania
Scenic USA offers a collection of select photographs from a wide variety of attractions, points of interest, historic sites, state parks and
national parks found throughout the United States. Each photo feature is coupled with a brief explanation.
For further detailed information, links to other related sites are provided.
Old Bedford Village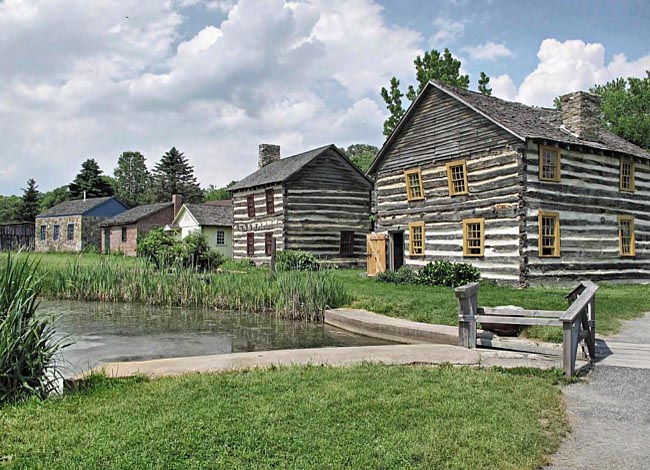 Like a trip into the past,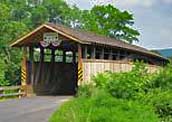 visitors cross the one-lane Claycomb Covered Bridge on their journey back in time to the Old Bedford Village. Located in southwestern Pennsylvania's Bedford County among the foothills of the Evitts Mountain Ridge, this historic site has all the makings of an authentic 18th century village. On a stroll through town, visitors will pass by dozens of old structures that house workshops, mercantile shops, residental homes (log cabins), a one room octagonal school house, and even a wishing well. The village wouldn't be complete without its apothecary, jailhouse and a variety of old churches. Period homes have all the authentic furnishings, such as pewter dishes, four-poster beds with straw mattresses, and great stone fireplaces.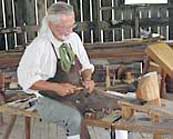 The village puts on various craft shows, demonstrating coopering, quilting, candle making, baking, and blacksmithing. Guests are invited to test their own candle making skills, use a spinning wheel or punch out a tin plate souvenir.
Hungry? Enjoy lunch at the Pendergrass Tavern, or pick up a snack at bakery and ice cream parlor. At the general store, youngsters, both young and old, will be able to enjoy a collection of penny candies. Not only a fun time, but the Old Bedford Village can also be an enjoyable history lesson.
Copyright ©2006-2009 Benjamin Prepelka
All Rights Reserved