Scenic USA - Pennsylvania

Angels in the Field-Flight 93 National Memorial
---
---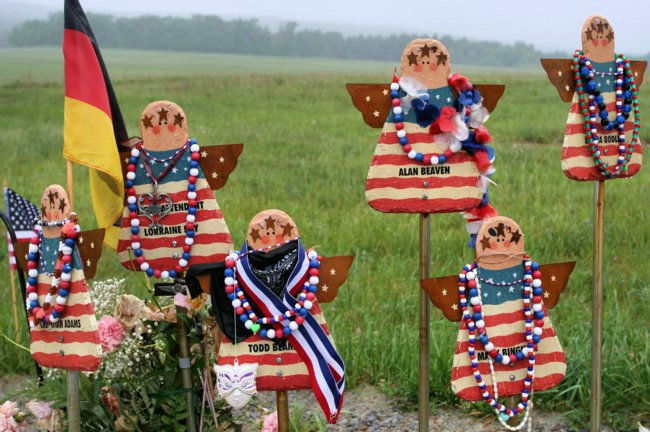 May all who visit this place remember the collective acts of courage and sacrifice of the passengers and crew, revere this hallowed ground as the final resting place of those heroes, and reflect on the power of individuals who choose to make a difference. ~ from the National Park Service
   Those that watched and witnessed the events in America on September 11, 2001, will never be able to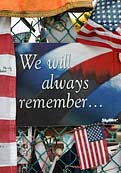 forget the worst act of terrorism in the country. On the morning of September 11, 2001, al Qaeda terrorists hijacked four commercial airliners in a strategically planned attack against the United States. These terrorists intentionally flew two jet airliners into the World Trade Center's Twin Towers in New York City and a third aircraft into the Pentagon in Arlington, Virginia. A fourth aircraft, United Airlines Flight 93, crashed into an open field in Somerset County, Pennsylvania, killing all passengers, crew members, and terrorists on board. The four aircraft strikes killed nearly 3000 people, the deadliest attack on American soil by foreign extremists.
   On the morning of September 11th, United Airlines Flight 93 was delayed in its departure from Newark, New Jersey because of heavy traffic.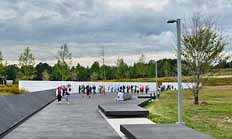 After initial takeoff, about 45 minutes into its flight, the plane made an abrupt turn and headed toward the southeast. Realizing their fate, passengers made a collective decision to fight back. Shortly before 10 o'clock the plane was spotted flying erratically over southwestern Pennsylvania. Minutes later, the aircraft plunged to the earth. There were no survivors.
   The Flight 93 crash site is located in Somerset County just outside of Shanksville, Pennsylvania. Despite its remote location, the area has received millions of visitors.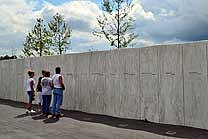 During the first few years temporary memorials were set up by family and friends. The National Parks Service has since developed plans to honor the lives and actions of the 40 people who changed history on September 11, 2001. Designed by Paul Murdoch Architects and Nelson Byrd Woltz Landscape Architects, the Memorial Walkway and Memorial Wall are in place and the visitor center complex is under construction.
   This year's observance ceremony highlights the first public display of the Congressional Gold Medal honoring the passengers and crew of Flight 93 at the Memorial Plaza. A Congressional Gold Medal is highest civilian award that the United States Congress can give. Each is specially designed to honor the recipients.
A common field one day. A field of honor forever.
Area Map
---
| | |
| --- | --- |
| Nearby Points of Interest | |
---
Copyright © 2009-15 Benjamin Prepelka
All Rights Reserved