Scenic USA - West Virginia
Scenic USA offers a collection of select photographs from a wide variety of attractions, points of interest, historic sites, state and
national parks found throughout the United States. Each photo feature is coupled with a brief explanation.
For further detailed information, links to other related sites are provided.
Mill Creek Falls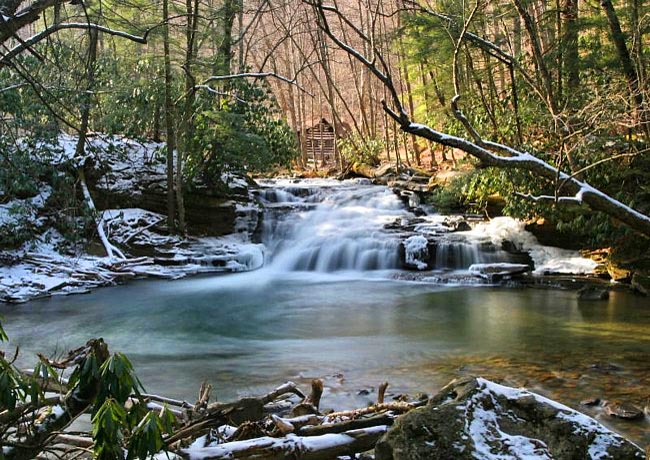 This enchanting winter scene captures a marvelous view of Mill Creek Falls in the Kumbrabow State Forest. Covering nearly 10,000 acres in West Virginia's Highland Region, the multi-use land achieves a balance between recreation use, and the preservation of forest and wildlife. The forest is a showcase of beauty, graced with mountain streams, thick stands of hardwoods and scenic views of Rich Mountain.
Hunters and anglers enjoy prevalent game, ranging from bear, turkey and native trout. Facilities include pioneer cabins, campsites and rustic picnic areas. Summer programs invite the area's youth with a broad array of educational entertainment.
Eight different trails cover the mountainside, from Mowry Trail, nearby the forest headquarters, to the Rich Mountain Fire Trail that leads to the top of Rich Mountain.
Copyright © 2009 Benjamin Prepelka
All Rights Reserved