Scenic USA - Michigan
Scenic USA offers a collection of select photographs from a wide variety of attractions, points of interest, historic sites, state parks and
national parks found throughout the United States. Each photo feature is coupled with a brief explanation.
For further detailed information, links to other related sites are provided.
Black Slate Falls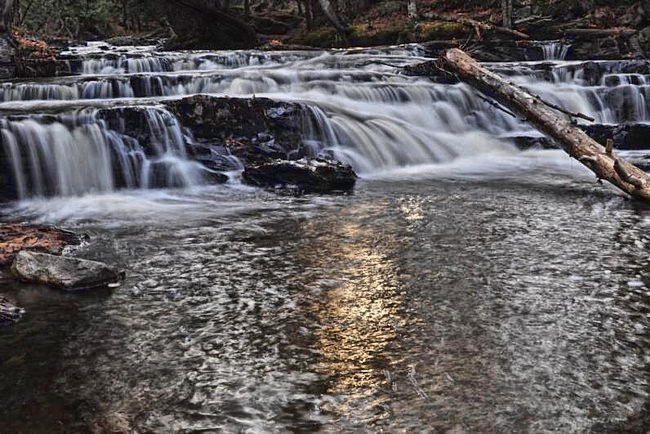 Separated by the Straits of Mackinaw, Michiganís Upper Peninsula has a distinct look and feel, a distinct difference from the Lower Peninsula. Noted for its wilderness land, wildlife, scenic shorelines and maritime history, the U.P. attracts a flock of summer visitors, sightseers and photographers. With shorelines on Lake Superior, Lake Huron, and Lake Michigan, there is no shortage of subjects for lighthouse fans. Beautifying the U.P., nearly 200 waterfalls are also strung out along the coastline.
Gathering momentum on the slopes of Mount Arvon, Michiganís highest peak, the Slate River drops northward into Lake Superior. At one time when slate was a predominant roofing material, Arvon Road led to the small town of Arvon and a slate quarry. Today the town has all but disappeared, and piles of waste slate mark the quarry site. West of the Slate River, Arvon Road leads to this beautiful setting of Black Slate Falls. Here, tucked in the woods is a picturesque little falls as it drops over slate ledges. Quartzite and Black Slate falls are found at the end of Arvon Road. For those seeking more woodland waterfalls, this wild river leads down to Slate (the largest drop), Slide and Ecstasy falls, just three miles downriver. Hikerís notes indicate itís a lot easier to reach Slate Falls from Skanee Road, where Arvon Road gets its start.
Copyright ©2010 Benjamin Prepelka
All Rights Reserved