Scenic USA - Michigan

Eagle Harbor Light Station
---
---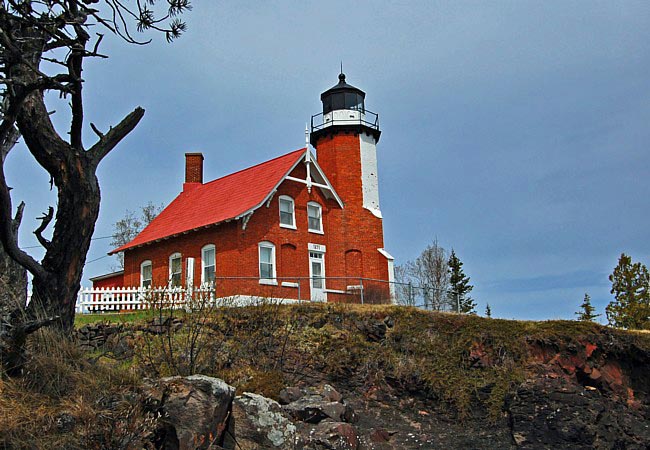 Owned and operated by the Keweenaw County Historical Society, the Eagle Harbor Light Station dates back to 1871. Providing a navigation point for Lake Michigan traffic, this stout brick structure replaced an early wooden tower that lasted only 20 years.
Seeing steady outgoing shipments of copper and lumber, Eagle harbor Lighthouse is perched on a mass of unforgiving rock at the harbor entrance. Still an active navigational beacon, the 4th order lens was replaced with an automated aviation beacon.
   Enduring a 130 year onslaught of Great Lakes storms and battering elements, the light station now doubles as a maritime museum.
With the light station displaying a complete collection of period furnishing, the old fog signal and watch buildings feature a fascinating collection of shipwreck artifacts and maritime exhibits. The life saving building and commercial fishing museum round out the society's collection of Keweenaw Peninsula history.
   Here on Michigan's top of the world, Keweenaw Peninsula offers plenty of history, miles of sandy beaches, and numerous biking and hiking trails. Noted for its scenic hills and vibrant autumn foliage, its dozen lighthouses and scores of major waterfalls summon nature lovers and sightseers. Winter events and a huge winter sports playground, plus a full list of cultural events guarantee the Keweenaw Peninsula has something for everyone.

    Area Map
---
---
Copyright © 2011-17 Benjamin Prepelka
All Rights Reserved