Scenic USA - Virginia

Big Walker Mountain Lookout
---
---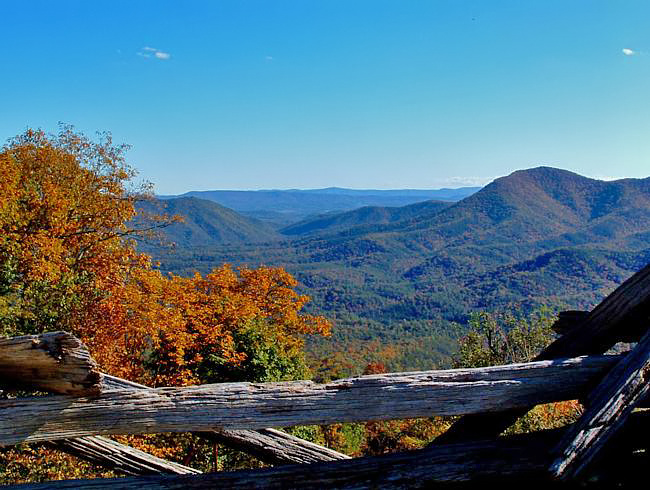 Running through the western section of Virginia, two impressive mountain ridges, the Walker and Brushy mountains,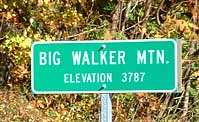 are located just a few miles south of the border from West Virginia. Interstate 77 cuts straight through these mountains, exhibiting the bullish art of modern highway engineering. While I-77 tunnels right through Big Walker Mountain, travelers miss out on a fantastic view from up on top! The Big Walker Mountain Scenic Byway, a sixteen mile loop, guides sightseers through Virginia's Blue Ridge Highlands. Here, byway visitors will find historic farmland, the Jefferson National Forest, Stony Fork Creek Camping Area and a 270 degree view from Big Walker Mountain Lookout. Off to the west is a bowl in the mountains about 10 miles in diameter. Nicknamed God's Thumbprint, Burkes Garden is filled with some of the most fertile farmland in the state.
Just west of the overlook parking area, sightseers may stretch their legs on the Monster Rock Trail.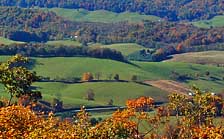 Once part of the Appalachian Trail, this section of the 2200 mile route was bypassed in 1977. The trail climbs about 200 feet in elevation for about a half mile to Monster Rock. Here the steep pathway is heavily wooded with oak, maple, rhododendron and mountain laurel. A break along the ridgeline opens at an overlook for a grand view all the way to West Virgina
Access to South Scenic Highway is from Exit 52 on I-77 at Bland, or take Exit 70 on I-81 at Wytheville (Stony Fork Road) which doubles as U.S. Route 52. When South Scenic Highway is coupled together with VA Route 717 (I-77 Exit 47), these two highways make a great scenic loop, a nice change of pace from interstate travel.

Area Map
---
| | |
| --- | --- |
| Nearby Points of Interest | |
---
Copyright © 2006-16 Benjamin Prepelka
All Rights Reserved