Scenic USA - Florida
Scenic USA offers a collection of select photographs from a wide variety of attractions, points of interest, historic sites, state parks and
national parks found throughout the United States. Each photo feature is coupled with a brief explanation.
For further detailed information, links to other related sites are provided.
Fort Christmas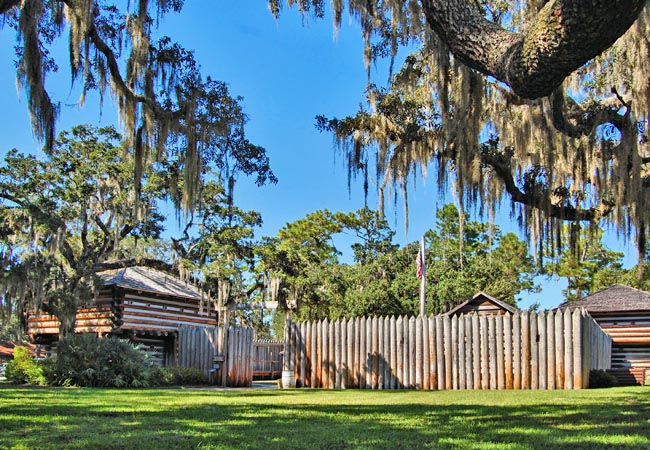 Fort Christmas was one of four army outposts within the border's of Orange County. A string of forts were setup to supply a military campaign in attempt to relocate Florida's Seminole Indians. Nervous non-native settlers had a strong desire to remove the Seminoles to a reservation far to the west. Major General Thomas S. Jessup used the forts as supply depots as his troops advanced southward. This engagement was named the Second Seminole War.
The fort, built along the St. Johns River corridor, was established on Christmas Day, 1837. The use of the fort was short lived as the war effort advanced into southern Florida. The troops were then re-supplied by a water route along the St. Lucie River.
Today's Fort Christmas is a re-creation that began as a Bi-Centennial project. The Orange County Parks Department has now developed the area with pavilions, picnic tables, playgrounds, sports fields and courts, all shaded with very large and very mature sprawling oaks.
Copyright ©2006 Benjamin Prepelka
All Rights Reserved