Scenic USA - Virginia
Scenic USA offers a collection of select photographs from a wide variety of attractions, points of interest, historic sites, state parks and
national parks found throughout the United States. Each photo feature is coupled with a brief explanation.
For further detailed information, links to other related sites are provided.
Virginia Highlands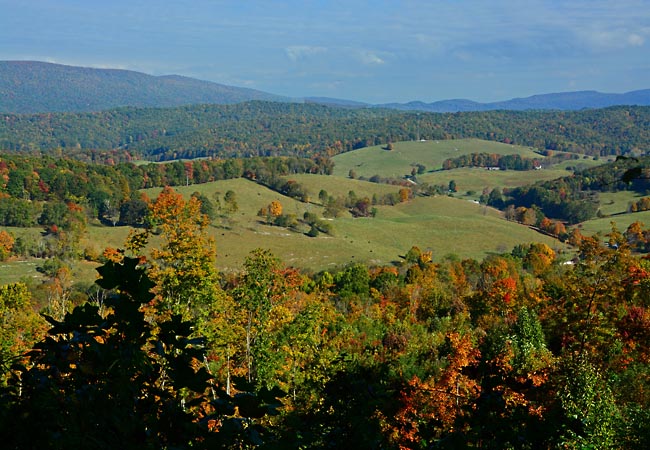 Moving westward from Virginia's coast, the land's topography begins to change. Heavily influenced by the Appalachians, inland rolling hills lead to high mountain ranges, stacked up to 5,000 foot heights. Pioneers moved into western frontier zones, taking advantage of its fertile valleys. Their livelihoods revolved around small farms, raising livestock and a wide variety of crops. In events leading up to the Civil War, these western Virginia families found it difficult to side with a secession movement during the late 1850s. The local communities were self sufficient, relying on the barter system, finding their way of live far different from the large plantations using slave labor. The heavily populated eastern section of Virginia voted to join the Confederacy. Soon afterward Virginia's western region revolted and became the state of Kanawha, later becoming West Virginia.
This landscape view looks out towards a fertile valley among Virginia's Western Highlands. Just to the west is Burke's Garden, also called God's Thumbprint. Here in this rural mountain community, 260 people call 20,000 acres, home.
Copyright ©2007 Benjamin Prepelka
All Rights Reserved