Scenic USA - Nebraska

Toadstool Geologic Park
---
---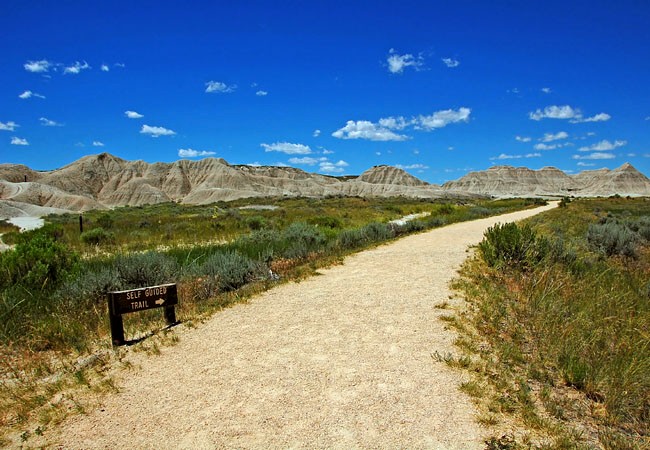 Representing Nebraska's badlands, Toadstool Geologic Park is tucked into the northwest corner of the state's panhandle.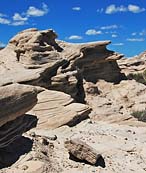 Named for its unique sandstone slabs resting on narrow pedestals, the park is one small part of a huge Oglala National Grassland. Here, among the park's odd-looking moonscape of highly eroded rock formations, visitors may discover well preserved fossils of extinct species that date back over 10,000 years.
Found about 15 miles from Crawford, the geologic park's one mile loop trail is the highlight of the area.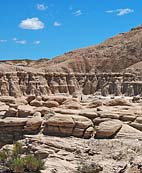 Its fascinating geology and paleontology are described at the trailhead kiosk. Reached over a 12 mile gravel road, the remote park offers a picnic area and small campground, but there is no water available.
Requiring a small day-use fee, park guests are invited to explore the deeply eroded landscape, made up of sandstone, siltstone and clay. Among the toadstool formations, fossil remains of tortoises, rhinos, saber-tooth cats, three-toed horses and camels were once killed and buried by windblown volcanic ash about 12 million years ago.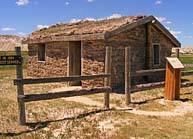 Alternating bands of colored rock represent different wet and dry seasons when the ash was deposited.
A reconstructed sod house near the parking area, built in 1984, represents the Pelren-Anderson home of 1930. Depicting a typical home on the treeless plain, sod strips were laid like bricks, usually measuring 12 inches wide and 4 inches thick. Offering shade in the summer and warmth in the winter, the replica sod house offers a look into the past for our future generations. Our imagination does little to translate the everyday struggles of century-old plains living.

Area Map
Directions to the Park
---
| | |
| --- | --- |
| Additional Points of Interest | |
---
Copyright © 2013-15 Benjamin Prepelka
All Rights Reserved