Scenic USA - Montana

State Capitol Building
---
---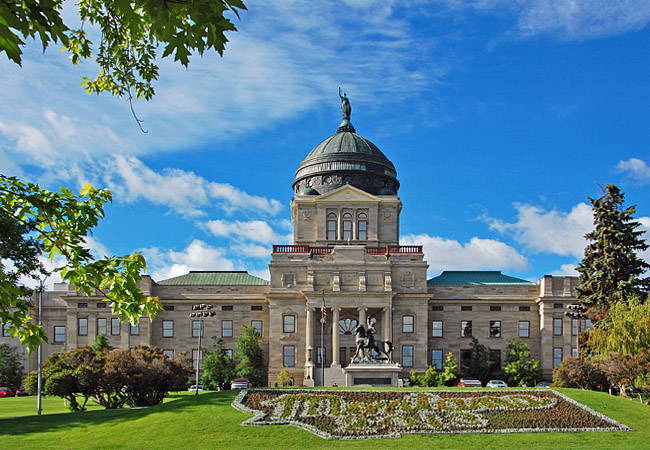 Consisting mostly of small mining towns, Montana was considered for territorial status in 1864.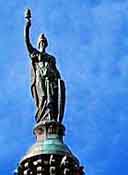 Anxious to create states free from slavery, President Abraham Lincoln's addition of the Montana Territory did little to change the struggles of war in the east.
By 1889, Montana achieved statehood and a bitter fight over which city would become the State Capitol ensued. Helena, the territorial capital, would have to fend off the political battle funded by the rich copper barons from Anaconda. Voting to spend a half million dollars on a capitol building, another scandal surrounded the Capitol Building Commission, looking to skim a tidy sum from the project. The first design by George R. Mann was scrapped after the controversy, and a newly appointed commission selected a capitol building design by Charles Emlen Bell and John Hackett Kent.
Completed during the first years of the 20th century, the capitol building followed a Greek neo-classical style, topped with an imposing spherical dome. Constructed of Montana granite and limestone, the building was quickly expanded by the addition of eastern and western wings in 1912.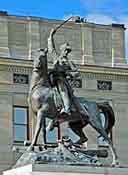 Today, Montana State Capitol visitors are first drawn to its prominent hilltop position and the huge copper-clad dome. Topped with the Goddess of Liberty statue, amid all of the capitol building controversy there remains no record of the why the statue was made or its shipment to the buidling site. Visitors are welcomed to tour the Peoples House, where they are first greeted inside by the building's massive rotunda. Four huge paintings, depicting a Native American, explorer, gold miner and cowboy, decorate the rotunda area. When not in use, tours included the legislative branch wings, the state's courtroom and the governor's office. One of the main attractions of the capitol building, a painting by Montana's most famous artist Charles Russell, hangs above the speakerís chair in the House of Representatives. Called Lewis and Clark meeting Indians at Ross Hole, measures 12 feet high and 25 feet wide.
Guided tours are geared to fit all ages and focus on history, function, architect and art.

Area Map
---
| | |
| --- | --- |
| Additional Points of Interest | |
---
Copyright © 2013-15 Benjamin Prepelka
All Rights Reserved