Scenic USA - Colorado
Scenic USA offers a collection of select photographs from a wide variety of attractions, points of interest, historic sites, state parks and
national parks found throughout the United States. Each photo feature is coupled with a brief explanation.
For further detailed information, links to other related sites are provided.
Arkansas River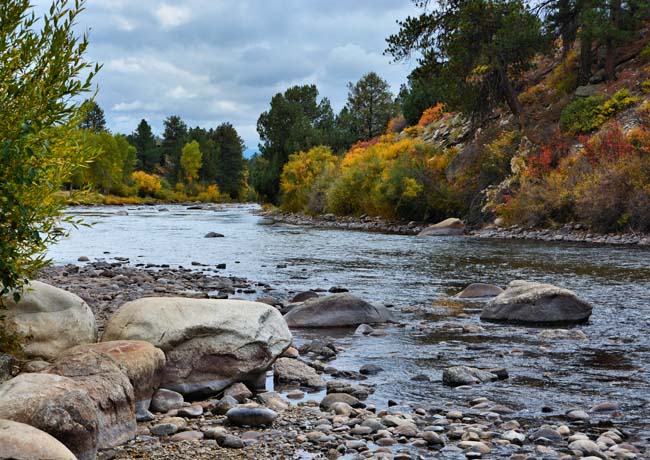 Colorado's Chaffee County, located on the slopes of the Rocky Mountains, has more 14,000 foot peaks and spectacular mountain scenery than most other regions in the state. Its western border loosely follows the Continental Divide and gives birth to the sixth longest river in America. The Arkansas River headwaters begin nearby one of the highest towns in the world, Leadville. As the Arkansas rushes southward, the river passes by the famous Collegiate Peaks, and drops 4600 feet over 120 miles. Here, the Arkansas cuts through Brown's Canyon and the Royal Gorge, creating some of the state's most exciting whitewater runs.
Just south of Nathrop, the river runs through the Arkansas Headwaters State Park, following U.S. Route 24 and Route 291. At Salida, the Arkansas begins to follow U.S. Route 50 as it heads eastward to the Colorado plains. Beyond the Colorado border, the river passes through three more states on its 1450 mile journey to the Mississippi River.
This view captures the Upper Arkansas, mostly recognized for its whitewater rafting and kayaking adventures. In the spring and summer, the Arkansas Headwaters Recreation Area provides rapids that vary from wild to mild. By October, in the dry season, the Arkansas has slowed considerably, but remains a great area for fishing, hiking, camping and wildlife watching.
Copyright ©2010 Benjamin Prepelka
All Rights Reserved