Scenic USA - California

Stovepipe Wells
---
---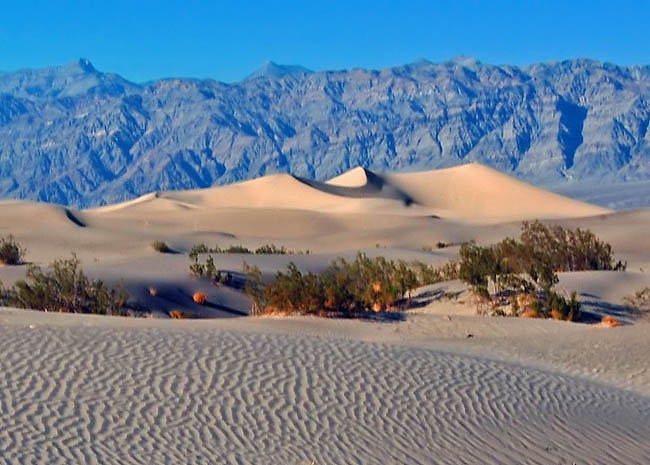 Photos by Ben Prepelka
Canyon and creek photos - courtesy NPS
Rising up nearly a 100 feet above Death Valley's Stovepipe Wells, Mesquite Flat Dunes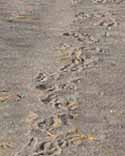 are recreated with every gust of wind. Caught in the late afternoon sun, dune ridges and ripples cast their intricate shadows across this California desert. While morning is a great time to follow the tracks of nocturnal animals, during windless days these intriguing patterns remain for park latecomers.
Extreme temperatures of Death Valley National Park test special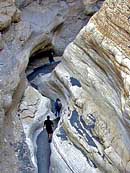 adaptation strategies of all desert animals. The kangaroo rat impresses park visitors with their own moisture conservation skills. Living their entire lives without drinking water, the rat stays underground during the day capturing moisture with special nasal membranes. Sometimes they plug their burrow entrance with dirt, keeping out the hot, dry air and any unwanted guests. A small rattlesnake, called the sidewinder, is also nocturnal and survives without drinking water. Tasty meals of kangaroo rats provide all the moisture the sidewinder needs.
Many first time visitors to Death Valley are surprised to find the area not covered with a vast Sahara-type sea of sand dunes. With over 3 million acres designated as wilderness, Death Valley is a huge area of extreme topography.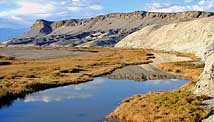 The terrain varies from an unwelcoming sizzling desert at Badwater Basin to rocky canyons and snow-capped peaks. Located a quarter mile west of Stovepipe Wells Village, Death Valley visitors find Mosaic Canyon a beautiful example of one of Death Valley's many canyons. An easy walk from the parking area, a well worn pathway leads into the canyon narrows.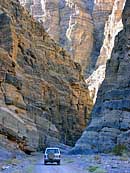 Here, park explorers find the surrounding rock walls a mosaic of water-polished marble. Visitors will also be surprised to find a stream in the desert. Although Salt Creek dries up in the winter and is very salty, the seasonal stream is home to the pup fish. A wooden boardwalk, made wheelchair accessible, guides guests along the streambed where the desert offers some greenery in an oasis type setting. Titus Canyon, one that's drivable with a high clearance vehicle, offers a string of interesting attractions. This popular scenic drive passes a ghost town, petroglyphs, an area known for bighorn sheep, rare desert plants and a section of the canyon that's very tight. A trip into Titus Canyon creates an exciting finish to a day in the Stovepipe Wells vicinity.

Area Map
---
| | |
| --- | --- |
| Nearby Points of Interest | |
---
Copyright © 2009-15 Benjamin Prepelka
All Rights Reserved