Scenic USA - California

Scotty's Castle
---
---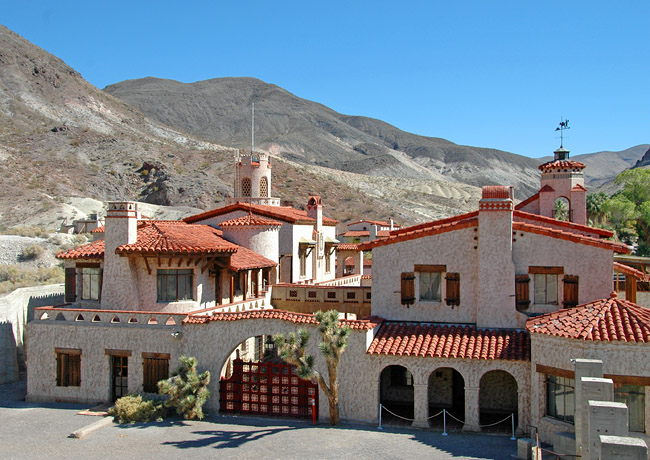 It really wasn't Scotty's,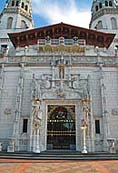 and it's not even a castle, but the elaborate Spanish villa has gone by the name Scotty's Castle since the 1930s. Located in northern Death Valley, the castle takes full advantage of a spring in Grapevine Canyon, providing a vital source of water ... and at one time, power for a generator.
Here in east-central California, Death Valley is surrounded by four major mountain ranges, placing the valley in a rain shadow. By the time clouds rise over these steep ranges little moisture remains, creating one of the driest and hottest places in America. One extreme period, from 1931 to 1934, saw only 0.64 inches of rain.
Albert Mussey Johnson, a Chicago millionaire, was lured to Death Valley by a shifty Walter Scott, also known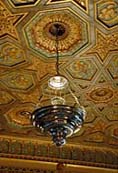 as Death Valley Scotty. While visiting the valley and investigating a gold mine deal during the Roaring 20s, Johnson's wife Bessie was sure that this area was good for her husband's health and convinced him to build a vacation home. Albert Johnson soon forgave Scotty for his deceitful mining scheme and the pair became good friends. Johnson and his guests continued to be amused by Scotty's tall tales and imaginative stories.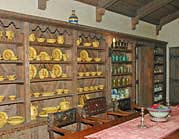 Scotty continued with one tale so long, proclaiming the castle was his own, the name Scotty's Castle stuck.
Herbert Hoover ordered the establishment of a Death Valley National Monument in 1930, placing the Death Valley Ranch on park land. Eventually after Johnson's death, the National Park Service purchased the villa, creating a popular stop in Death Valley. Tours of the castle's interior last about an hour. An additional underground tour showcases the interesting historic technology needed for desert living.

Area Map
---
| | |
| --- | --- |
| Additional Points of Interest | |
---
Copyright © 2009-15 Benjamin Prepelka
All Rights Reserved