Scenic USA - Maryland
Scenic USA offers a collection of select photographs from a wide variety of attractions, points of interest, historic sites, state and
national parks found throughout the United States. Each photo feature is coupled with a brief explanation.
For further detailed information, links to other related sites are provided.
Piney Point Lighthouse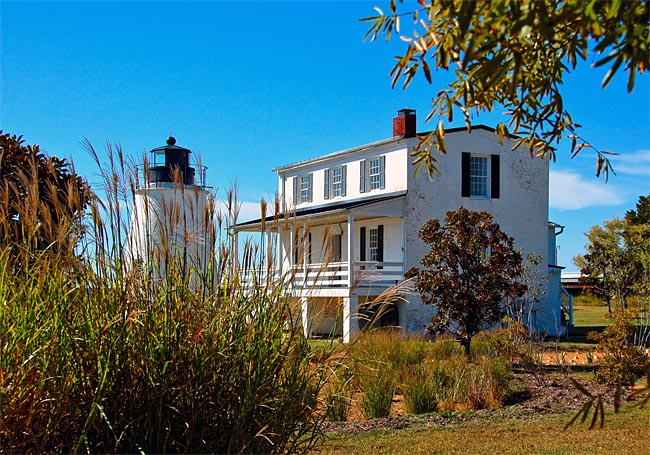 The hazardous shoals at Maryland's Piney Point, located about 14 miles from the Point Lookout lighthouse, had been marked by a lightship since 1821. The Piney Point Lighthouse, built in 1836, was the first of 11 lighthouses to be built along the Potomac River. Together with the Jones Point and Fort Washington lighthouses, it is one of only three of the original 11 to remain standing today.
The shore-based Piney Point Lighthouse tower is 35 feet tall, and the base at the ground level is four feet thick. The 10-lamp original lighting was replaced in 1855 by a 5th-order Fresnel lens, but has since been removed. The light was decommissioned in 1964, and in 1980 the U.S. Coast Guard transferred ownership to the Saint Mary's County Maryland Department of Recreation and Parks.
Over the years, the lighthouse deteriorated, and after the county took over ownership, preservations efforts have resulted in restoration and renovation of both the lighthouse and outbuildings. In 2003, after a Coast Guard cottage near the lighthouse that housed the Piney Point Lighthouse Museum was damaged by Hurricane Isabel, the museum was moved to a two-story building on higher ground.
The museum contains exhibits about the lighthouse, the U.S. Coast Guard, the history of the area as a presidential retreat and the interesting tale of a Black Panther German submarine that was sunk in the waters of the Potomac. This German U-boat is still largely intact, and is now a historical shipwreck dive preserve.
Copyright ©2008 Benjamin Prepelka
All Rights Reserved