Scenic USA - Maine
Scenic USA offers a collection of select photographs from a wide variety of attractions, points of interest, historic sites, state and
national parks found throughout the United States. Each photo feature is coupled with a brief explanation.
For further detailed information, links to other related sites are provided.
South Bristol Harbor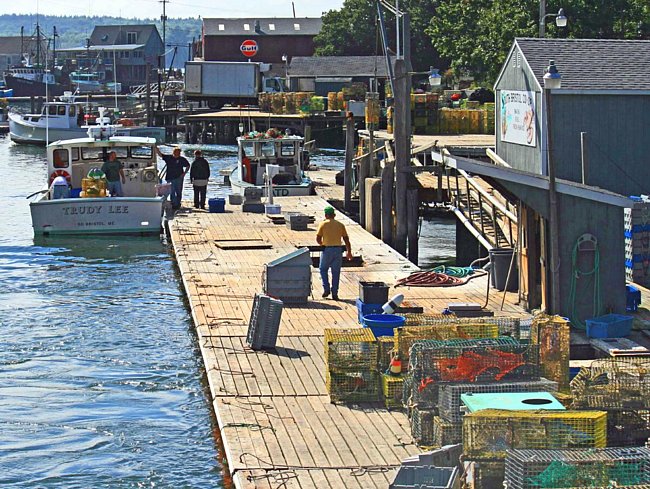 It may be hard to believe, but during America's Colonial Period lobster was considered poverty food, served to prisoners and indentured servants.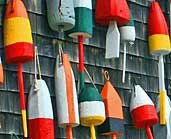 Sick of lobster, the servants rebelled and eventually obtained new contracts stating lobster meals would be limited to no more than three days a week. During this early period, four and five pounders were considered small. By the mid 1800s, the canning industry exploited Maine's abundant American lobster. In just 20 years the lobster population dwindled, and eventually canneries accepted half pounders for processing.
Today, Maine's crustacean harvest is big, with value nearing 200 million dollars per year. Maine's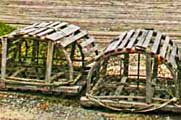 Department of Marine Resources enforces all laws and regulations concerning its fisheries. Lobster harvesters must be familiar with all aspects of the business, including federal permits, trap limits, lobster management areas, and invasive species studies. Plenty of controls are in place for a healthy lobster population. This South Bristol Harbor scene shows a modern lobster boat on the waterfront, gearing up for a run to set their traps. Colorful buoys mark the owner's lobster traps. Today's modern wire traps, buoys and power boats, all clearly marked with license numbers, slowly erode the nostalgic scene of a quaint harbor village.
Copyright ©2008 Benjamin Prepelka
All Rights Reserved