Scenic USA - Maryland
Scenic USA offers a collection of select photographs from a wide variety of attractions, points of interest, historic sites, state and
national parks found throughout the United States. Each photo feature is coupled with a brief explanation.
For further detailed information, links to other related sites are provided.
Point Drum Lighthouse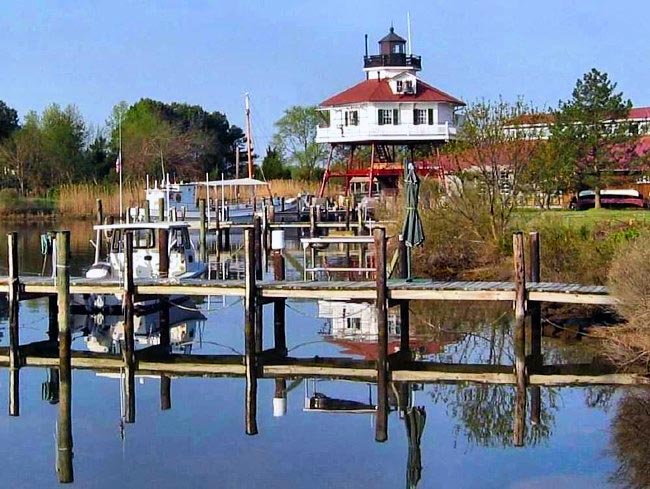 Even though congress appropriated lighthouse funds for the Point Drum location in 1853, the Chesapeake beacon construction dragged on until the 1880s. First lit in 1883, after a 50 year wait, the cottage style lighthouse was set up on cast-iron screw jacks and remained in service until 1962. Originally the navigation aid was designed as a land based beacon. Politics and paperwork delayed the project until a submerged property site title was secured.
An old light-keeper's log book, preserved in the national archives, gives a picture of the daily chores of lighthouse maintenance. Some not-so-usual records detail an overboard rescue, an unnerving February Patuxent River ice flow that shook up the lighthouse residents. Tremors of the Charleston Earthquake (Magnitude 7.3) were also felt at the lighthouse.
Today, the Point Drum Lighthouse is part of the Calvert Marine Museum. Rescued from vandals, the lighthouse is a main feature at this Maryland attraction. The museum also displays exhibits of the seafood industry, area batoids, the paleontology zone, children's fun in the discovery room, the vintage J.C. Lore & Sons Oyster House, woodworking and model shop.
Copyright ©2008 Benjamin Prepelka
All Rights Reserved