Scenic USA - Maryland

Calvert Cliffs State Park
---
---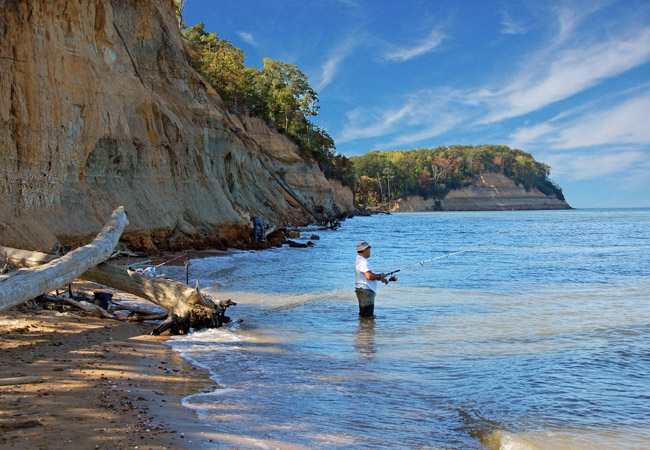 Calvert Cliffs, a day use park, features the usual picnic pavilions, playgrounds, youth group camps and fishing pond. But what's really out of the ordinary is found on one of the park's nature trails. A popular, well worn two mile path leads out to the Chesapeake Bay. Here, park goers will find the park's remarkable Calvert Cliffs,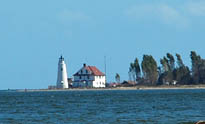 a series of massive cliffs that dominate the coastline in Calvert County. Formed millions of years ago, these cliffs contain an incredible abundance of fossils, both marine and land dwellers. As the cliffs erode, shells, bones, shark teeth and whalebones are often exposed. Rarer finds include whole whale skeletons, porpoises, birds, mastodon, peccary and Miocene horses. Some of the most prized fossil finds (visitors may keep the fossils found on park property) come from the giant megalodon shark (Carcharodon megalodon) that once exhibited razor sharp, five inch teeth. In all, over 600 species of animals have been documented in these cliffs. Lately, access to the majority of the cliffs has been temporarily been halted due to heavy cliff erosion, but the trail remains a popular hike.
While you're out on the beach, looking southward, you can easily spot Cove Point Lighthouse. This is the oldest continuously operating light station on the Chesapeake Bay.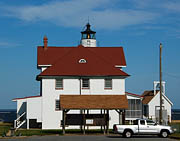 Raised in 1828 by the prolific lighthouse builder John Donahoo, the lighthouse marked the tip of the point with fourth order Fresnel lens. Light keepers stayed on in the duplex light station until 1986 when the lighthouse was automated. Today, the Cove Point light station is one of two dozen lighthouses in the country where you may spend the night. Located on a quiet four acre parcel, the lighthouse is a one of kind vacation destinations. Development director of Calvert Marine Museum, Vanessa Gill, has been working a long time to set up the facility for lighthouse fans to enjoy a stay on the Chesapeake Bay. It's said the grounds have a magical quality at night and Vanessa will gladly leave the light on for you.

Map
---
| | |
| --- | --- |
| Additional Points of Interest | |
---
Copyright © 2012-16 Benjamin Prepelka
All Rights Reserved