Scenic USA - Washington
Scenic USA offers a collection of select photographs from a wide variety of attractions, points of interest, historic sites, state and
national parks found throughout the United States. Each photo feature is coupled with a brief explanation.
For further detailed information, links to other related sites are provided.
Sturgeon Fin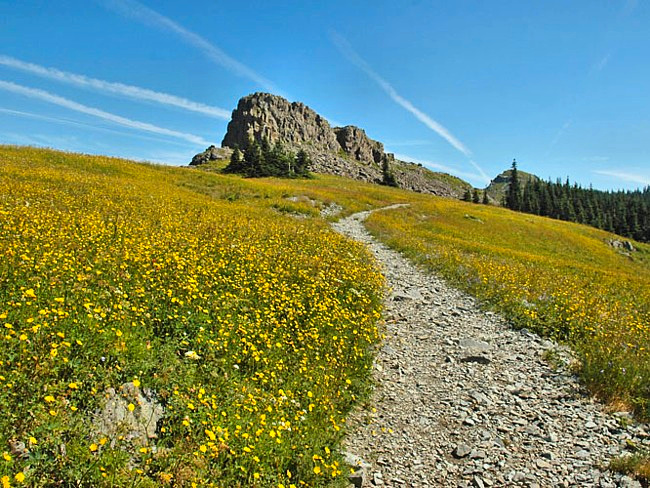 Once known as the Columbia National Forest, the 1.3 million acres of Washington forestland was renamed after Gifford Pinchot in 1949. Stretching from Mount Rainier south to the Columbia River, the Gifford Pinchot National Forest is a fitting tribute to one of the first visionary leaders known for conservation ethic. Serving as the first chief of the U.S. Forest Service, Pinchot was praised for its establishment, development and management.
Located in the South Cascades region, and noted for its complex topography and volcanic geology, the Gifford Pinchot National Forest is spread over Skamania, Clark, Lewis, Yakima, Cowlitz, and Klickitat counties. This view takes in Sturgeon Fin, a rock monolith that was once noted the high point in Clark County. Modern hand-held GPS units soon discovered that the USGS mis-mapped the location of this monolith. Corrected coordinates place the peak along the Clark and Skamania county line. Seen as a moderate climb, some climbers looking for more adventure find alternate routes with more difficulty, with some noted as a class 4 scramble. The cliffs of Sturgeon Fin appear as terraces or two-to-three foot stair steps. Nearing the east end, the ascent may pose more of a challenge getting to the top.
Copyright ©2006-2009 Benjamin Prepelka
All Rights Reserved