Scenic USA - Arkansas
Scenic USA offers a collection of select photographs from a wide variety of attractions, points of interest, historic sites, state and
national parks found throughout the United States. Each photo feature is coupled with a brief explanation.
For further detailed information, links to other related sites are provided.
Buffalo River Valley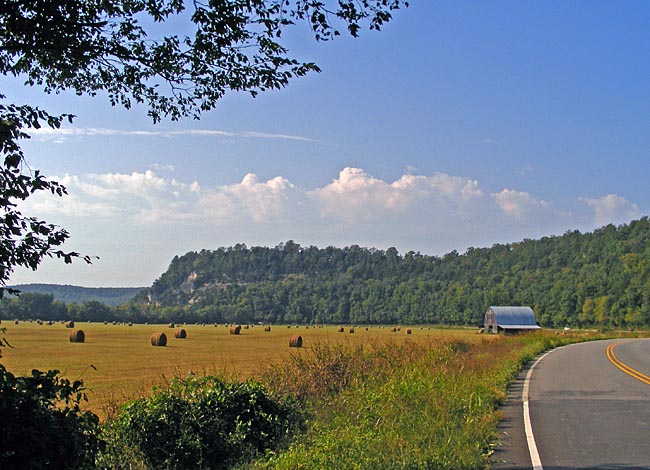 The Buffalo River Valley, a broad swath cut through the Ozark Mountains, lies mostly in a wild and rugged national park land. Promoted as 95,000 acres of recreational fun, park experiences include whitewater challenges, miles of wilderness hiking and majestic Arkansas scenery.
Long before its designation of the first National River, some of the first settlers, arriving in 1830, knew how to live on their own. Remembered as a stubborn and independent lot, valley farmers worked hard clearing new fields, coping with mother nature's whims, and struggled to make it. The attraction here was miles of fertile bottomland, creating a strong bond between the land and these new pioneers.
Farming traditions continue today, and local residents take exception to the methods and measures taken by the National Parks Service in acquiring additional land. With a sizable portions of prime farm land under park jurisdiction, farmers continue to feel the pressures to sell or face condemnation. Lease-back and use-occupancy are options not always offered. Continuing generations of Buffalo River Valley farmers feel strongly against giving up their land for three months of recreation and entertainment.
Copyright ©2006-2009 Benjamin Prepelka
All Rights Reserved