Scenic USA - Oregon

Crater Lake
---
---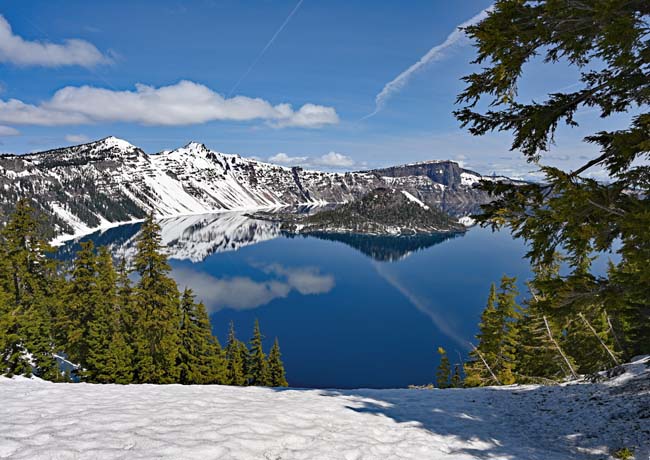 Here in southeastern Oregon, Mount Mazama in the Cascade Mountain Range was thought to have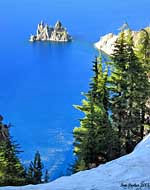 collapsed after a violent eruption 7700 years ago. It, perhaps, was the largest volcanic blast in North America during the last 500,000 years. The 12,000 foot high mountain was reduced to an open, six mile wide crater, now filled with rainwater and snowmelt.
The exceptionally clear blue waters of Crater Lake have cast their spell for thousands of years with some of the earliest tales related by the Klamath Indians. Their tribal myths tell of a mysterious deep blue lake with a scared passage to another world.
Today, visitors enjoy this scenic wonder over the park's 33 mile Rim Drive, with more than 30 pullouts spaced around the lake. Roadside exhibits and boat tours, ranger-led talks and guided hikes help explain the crater's past geology, ecology and cultural history. And there's no need to explain the lake's enchanting beauty.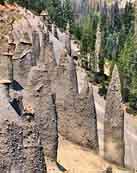 Its pure blue water is nearly 2000 feet deep, making it the second deepest lake in North America.
The park is also noted for 90 miles of hiking trails, its geologic history and exceptional clear skies, great for stargazing. There is no climbing or hiking within the crater with the exception of strenuous Cleetwood Trail that leads down to the lakeshore. Wizard Island, as seen here from a lakeside overlook, also provides unique Crater Lake views from its two mile Summit Trail, accessed only by boat. The Pinnacles Trail, an easy mile out and back hike, features an eerie cluster of volcanic spires along the canyon walls.
Crater Lake National Park, Oregon's only national park, is open 24 hours a day throughout the year, with road closures due to significant snow accumulation. Talk about snow! The park sees annual snowfall nearing 45 feet, contributing to the majority of the lake's water.

Area Map
---
| | |
| --- | --- |
| Additional Points of Interest | |
---
Copyright © 2009-15 Benjamin Prepelka
All Rights Reserved