Scenic USA - Wisconsin
Each day Scenic USA presents a new and exciting photo feature from somewhere in the United States. Chosen from a wide variety
of historic sites, city scenes, backcountry byways, points of interest and America's best parklands, this site offers the viewer hundreds
of unique travel destinations and vacation ideas. Each feature is coupled with a brief explanation. For further detailed information, links
to other related sites are provided, but are never to be considered an endorsement.
Sherwood Point Light Station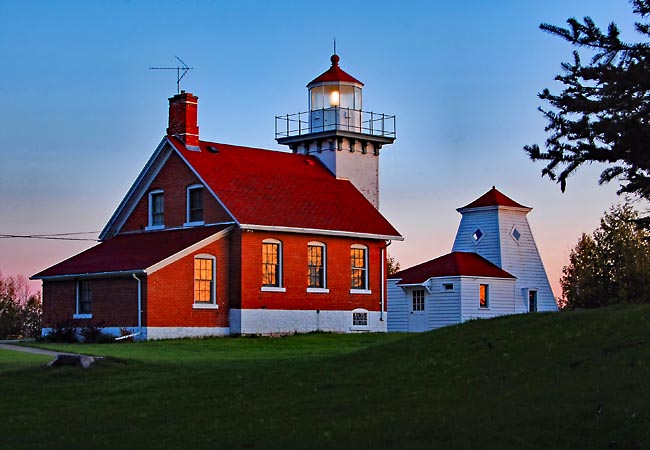 Among photographers there has always been many thoughts and discussions on the use available light and the best time of day for photography. Some believe the magic hour is best, the first half hour after sunrise and the end of the day just before sundown. Within this magic hour, sunlight creates highly saturated colors, softer highlights and pronounced shadows, some of the elements found within the most striking photographs. Other photographers enjoy the blue hour, just before sun-up and after sunrise when photographs take on the rich blue background of twilight.
When summer is over and the days grow shorter, it becomes much easier to get out and take advantage of these special times of the day. Here at the Sherwood Point Light Station, the early morning sun baths the subject in a warm glow. The sun's fiery glow is reflected off the window glass adding to the rich, warm colors of the light station. Minutes later, these exceptional colors begin to wash away with the rising sun.
The Sherwood Point Light was built in the late 1800s to mark the northern entrance to the Sturgeon Bay Ship Canal. The two and a half story light station, built to withstand Lake Michigan's fury, was constructed with 12 inch thick walls and heavy cast iron lantern room sections. A new fourth order Fresnel lens was installed, lasting well into the next century. Today the lighthouse remains on private U. S. Coast Guard property, with limited visitation. Here in Wisconsin's Door County, lighthouses remain a large part of heritage tourism and unique travel experiences.
Copyright © Benjamin Prepelka
All Rights Reserved