Scenic USA - Pennsylvania
Each day Scenic USA presents a new and exciting photo feature from somewhere in the United States. Chosen from a wide variety
of historic sites, city scenes, backcountry byways, points of interest and America's best parklands, this site offers the viewer hundreds
of unique travel destinations and vacation ideas. Each feature is coupled with a brief explanation. For further detailed information, links
to other related sites are provided, but are never to be considered an endorsement.
Cherry Run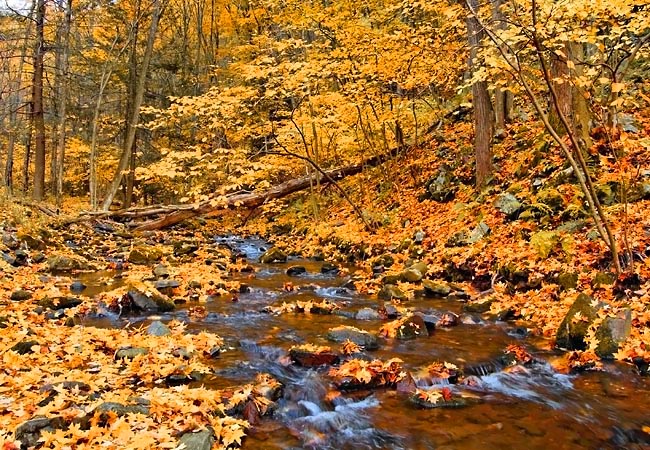 Named for Native American Chief Bald Eagle, central Pennsylvania's state forest covers a rugged ridge and valley region of the state. Spread over five counties and nearly 200,000 acres, this section of the Allegheny Mountains is dominated by sandstone ridges that reach heights of 2300 feet. These sharp ridges spawn many pristine mountain streams that eventually make their way to Penns Creek and the Susquehanna River Valley. Penns Creek is Pennsylvania's most famous limestone stream, known for its wild brown trout and excellent fishing.
Pictured here is one of many picturesque Bald Eagle State Forest mountain streams. Located alongside Cherry Run Road just south of Woodward, Cherry Run makes a short journey down the mountainside, adding its sparkling waters to Penns Creek.
Original central Pennsylvania land grants, given to Revolutionary soldiers, lead to this area's first settlements. This mountain land, rich in timber, was purchased by lumber companies and heavily logged in the late 1800s. After its extensive logging period the state acquired the land at bargain prices. With an average price of $2.30 an acre, the state acquired over half of today's holdings. The forests have now regrown forming an extensive second-growth timberland, the perfect place for a hiking adventure. After spending a day in the midst of a golden Bald Eagle State Forest, the 2.75 million dollar purchase price seems like a bargain.
Copyright © 2011 Benjamin Prepelka
All Rights Reserved