Scenic USA - Wisconsin

Boynton Chapel
---
---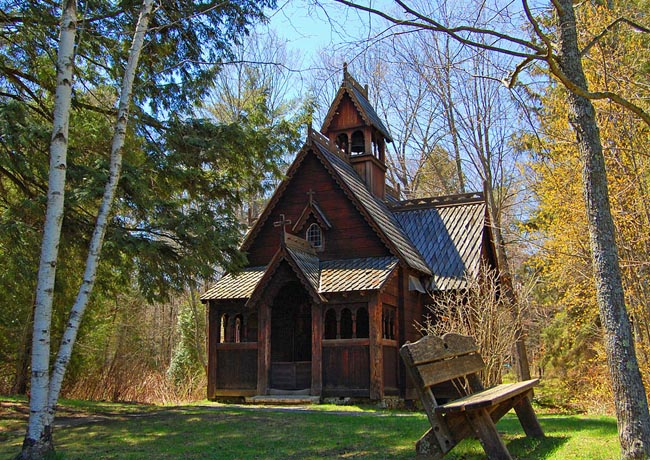 During the early 1900s, a well-to-do Illinois couple enjoyed their summer vacation in Wisconsin's Door County.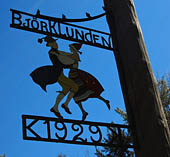 Falling in love with a piece of property on the shores of Lake Michigan in Bailey's Harbor, Carleton and Winifred Vail purchased the property and built a four bedroom lodge in the midst of a 325 acre birch forest. Completed in 1929, the Vails christened their new summer home Bjorklunden vid Sjon (birch forest by the water). Tragically, Carleton was killed in an auto accident 15 miles from Bjorklunden just three years later.
Struggling with her husband's death, Winifred spent a year traveling in Europe. Here she discovered inspiration in a 12th century stave church in Lillehammer, Norway. After she and Donald Boynton were married in 1934, Winifred set out to build her own chapel just as she had seen in Lillehammer. After breaking ground on the Bjorklunden property, it was discovered that cracks at the site formed a perfect cross in the bedrock. With this fortuitous sign, the chapel was completed before winter in 1934. Although the structure was complete, the Boyntons continued with finishing touches on the chapel for another seven years.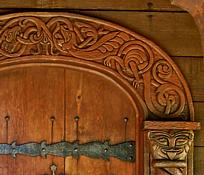 During the winters in Illinois, the couple created an incredible amount of wood carvings for the church. New to the art, an experienced wood carver taught the Boyntons in an adult education class. Armed with this newly discovered knowledge, the couple completed wood carvings for the entire church. Works included the unique cross of peace, the arch of dragons and masks over the doorway (inset), all 12 apostles (taking hundreds of hours) and 12 hand carved pews.
A popular site today for weddings, the Boynton Chapel is opened for tours twice a week from mid-June to late August. Along with the exceptional wood carvings, 41 hand-painted Frescos decorate the interior.

Area Map
---
| | |
| --- | --- |
| Nearby Points of Interest | |
---
Copyright © 2012-16 Benjamin Prepelka
All Rights Reserved