Scenic USA - Georgia

Lee and Gordon's Mills
---
---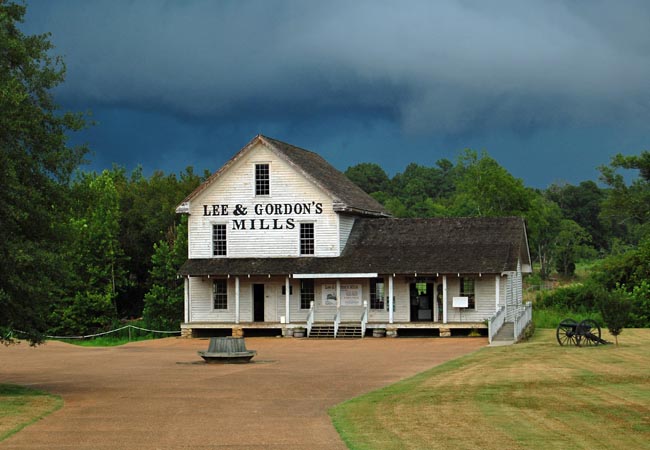 In 1836 the Gordon brothers moved into Catfish Springs (now Chickamauga), purchasing land of the displaced Cherokee during the time of the Sixth Land Lottery.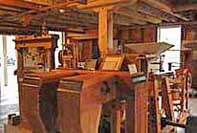 James Gordon saw the advantages of a parcel of land located at the fork of Catfish Springs and Chickamauga Creek. By 1840, James was the proud owner of a grist mill and general store, the only establishment in the area. Enjoying great success, James Gordon began the construction of a new home, now called the Gordon-Lee Mansion. When his daughter Elizabeth married miller James Lee, a new marquee over the door proclaimed Lee and Gordon's Mills.
   Used as an outpost by both the Union and Confederate military leaders during the intense Civil War Battle of Chickamauga, the duo restarted mill operations after the war. The enterprise remained in the Lee-Gordon family until 1929. The Wallace brothers took over the mill and store and continued its successful operation until 1963 when the last brother retired. The building sat dormant for the next 25 years.

Frank Pierce, owner of a successful printing business and former mayor of Chickamauga, purchased Lee and Gordon's Mills in 1993, one of Georgia's oldest mill properties. Familiar with the nuances of automotive restoration, Pierce decided to take on the mill. After six painstaking years, the mill was returned to its original condition. A millstone was secured from the Smithsonian Institute, and the turbines and mill machinery meticulously refurbished. Today, the mill and store are open for tours, displaying original mill turbines and assorted equipment. Just recently reopened after significant flood damage, the historic mill is a wonderful stop if you're in the Chickamauga area.

    Area Map
---
| | |
| --- | --- |
| Nearby Points of Interest | |
---
Copyright © 2011-16 Benjamin Prepelka
All Rights Reserved